Adoption of Cybercrime Bill by bulldozing opposition's opinion regrettable: Dr Hassan Mohi-ud-Din Qadri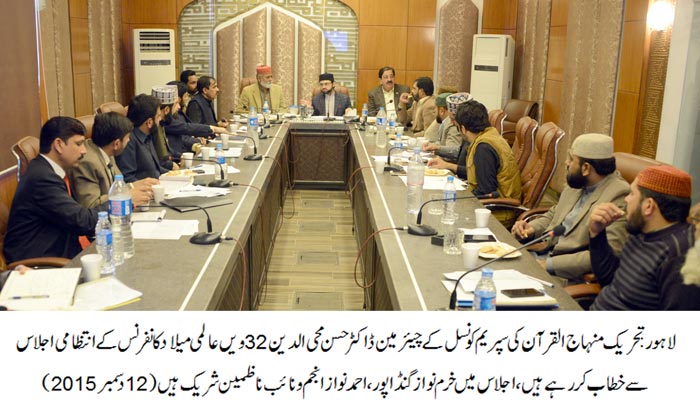 Chairman of MQI Supreme Council, Dr Hassan Mohi-ud-Din Qadri, has said that adoption of Cybercrime Bill by bulldozing the opinion of journalists, parliamentary parties and the people at large is regrettable as well as an example of the worst legislation. It will be more dangerous instead of being useful. He asked the government not to pollute this legislative enactment with ting of political and party interests on the basis of its superior numerical strength in Parliament. He said that Senate of Pakistan should not pass the Cybercrime Bill till such time when suggestions of opposition parties are not made part of the Bill, adding that the final draft of the Bill should be presented before the people for their input.
Dr Hassan Mohi-ud-Din Qadri expressed these views while addressing the monthly meeting of deputy General Secretaries at the central secretariat yesterday. The meeting, through a resolution, demanded implementation of all points of the National Action Plan. A special prayer was also made for success of the Operation Zarb-e-Azb. It was also decided in the meeting to hold memorial reference in the memory of the martyrs of APS and Model Town on December 16. The meeting also reviewed security arrangements at the International Milad Conference at Minar-e-Pakistan on December 24. It was announced that MQI founder and patron-in-chief Dr Muhammad Tahir-ul-Qadri will address the 32nd edition of International Milad Conference at Minar-e-Pakistan.
Dr Hassan Mohi-ud-Qadri said that it had become difficult for the terrorists to continue their nefarious activities in the backdrop of Operation Zarb-e-Azb and they were using internet to recruit people for their terrorist activities. He said that it is inevitable to put in place stringent system of punishment to stop such negative activities. He, however, added in the same breath that muzzling of freedom of speech cannot be allowed in the name of fighting cybercrimes. He said that it is unfortunate that an effort has been made since the beginning to make NAP controversial and this attitude has created difficulties in the way of decisive phase of action against terrorists. He said that MQI and Dr Tahir-ul-Qadri have played their national responsibility of waging a Jihad against terrorism and extremism at intellectual and scholarly level in the form of Zarb-e-Ilm. He said that 600-page Fatwa against terrorism and Islamic Curriculum on Peace and Counter-Terrorism are the first effort in this regard. He said that MQI and its leadership will continue their struggle against mischief of 'Khwarij'.