Dr Tahir-ul-Qadri condoles with Justice (r ) Nasira Javed Iqbal over death of Dr Javed Iqbal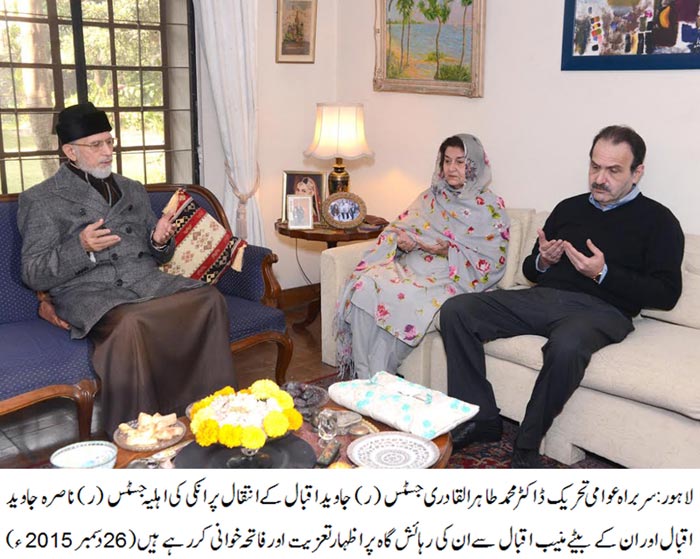 PAT Chairman Dr Muhammad Tahir-ul-Qadri visited the residence of late Justice (r ) Dr Javed Iqbal and offered his condolences on his sad demise to Justice (r ) Dr Nasira Javed Iqbal and his elder son, Muneeb Iqbal.
Speaking on the occasion, Dr Qadri paid rich tribute to scholarly and judicial services of late Dr Javed Iqbal. He said that he had a relationship of respect with him. He also shared the fact that Dr Javed Iqbal was his examiner as well in the University.
Dr Qadri said that Dr Javed Iqbal dedicated his life to supremacy of law and the Constitution. He prayed to Allah Almighty to rest the departed soul in peace.
Meanwhile senior teachers of Al-Azhar University Dr Muhammad Abdus Sattar al-Jabali, and Dr Abdur Raheem also condoled with Justice (r ) Dr Nasira Javed Iqbal over the death of her husband. MQI Supreme Council Chairman Dr Hassan Mohi-ud-Din Qadri, Hammad Mustafa, Qazi Faizul Islam, Noorullah Siddiqui and Raja Zahid were also accompanied the PAT Chairman.