2016 to be year of accountability of perpetrators of Model Town tragedy: Dr Tahir-ul-Qadri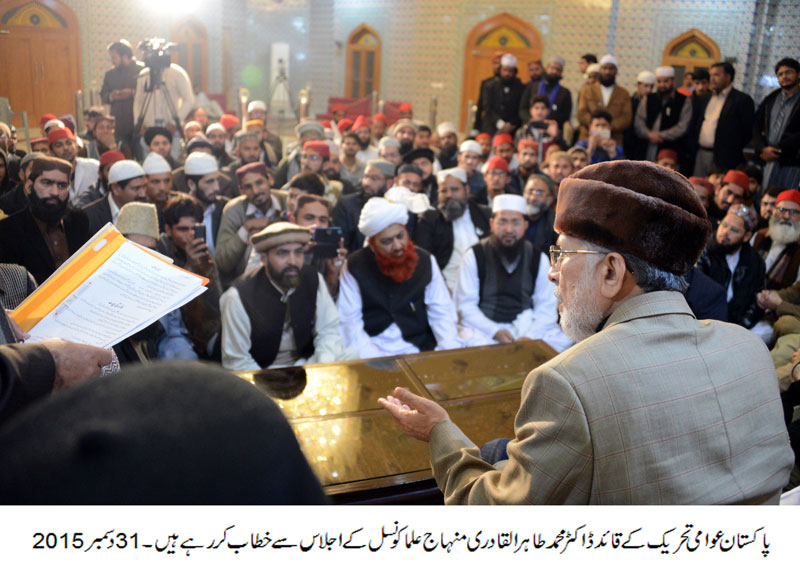 PAT chief Dr Muhammad Tahir-ul-Qadri has said that 2016 is the year of accountability of perpetrators of Model Town tragedy and decisive success of Operation Zarb-e-Azb. He prayed to Allah Almighty to protect Pakistan from mischief of terrorism and extremism.
The PAT Chairman spent a busy day in the central secretariat yesterday. He held meetings with the heads of different directorates and office holders of different forums of MQI and PAT. He presided over a special meeting of Minhaj Ulama Council on the occasion.
In his special address to the participants of the meeting, Dr Tahir-ul-Qadri said that the religious scholars have an important role to play in establishment of peace, elimination of terrorism and sectarianism and forging unity among the Muslim community. He said that people are looking towards the religious scholars. He asked Minhaj Ulama Council to adopt the practice of speaking truth away from compulsions of expediency as this is the message of the holy Quran and Sunna and dire need of the hour.
The PAT chief said that Ulama and Mashaykh should follow their elders in the footprints and convert Mosques into centres of purification of hearts, tolerance, love, and forbearance, adding that they should play their role to create unity in the ranks of the Umma.
Meanwhile, Dr Tahir-ul-Qadri telephoned Khawaja Aamir Fareed Koreja to condole the death of his father in law with him. He prayed to Allah Almighty to rest the departed soul in peace.
PAT Chief Coordinator Major (r ) Muhammad Saeed also called on Dr Tahir-ul-Qadri and discussed organizational and political matters with him. Dr Qadri will preside over the Central Core Committee meeting today in Model Town.