Faith leaders celebrate Dr Tahir-ul-Qadri's birthday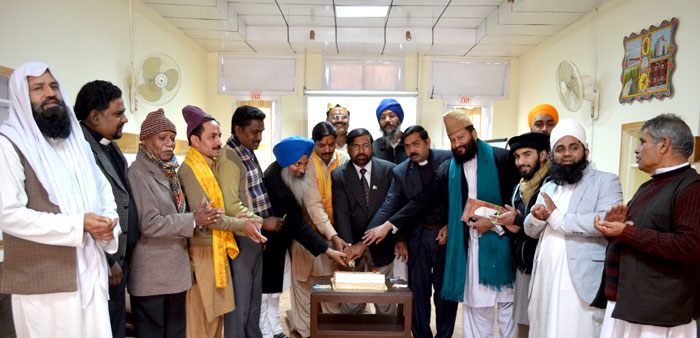 Different faith leaders term Dr.Muhammad Tahir ul Qadri as a bridge between Islam & other faiths, eulogize his services for peace and interfaith harmony in the world.
A ceremony marking the 65th birthday of Shaykh-ul-Islam Dr Muhammad Tahir-ul-Qadri and interfaith prayer held on 18th Feb 2016 at Murree under the banner of Directorate of Interfaith Relations, Minhaj-ul-Quran International. Interfaith representatives belonging to Hindu, Sikh, Christian and Muslim communities participated in the ceremony.
Sohail Ahmad Raza, Director of Interfaith Relations, welcomed the guests and gave a detailed introduction of Shaykh-ul-Islam Dr Muhammad Tahir-ul-Qadri. He threw light on his services for promotion of peace, interfaith dialogue and harmony in the world. He specifically referred to historic Fatwa authored by Shaykh-ul-Islam. Afterwards, the participants cut the cake of Shaykh-ul-Islam's 65th birthday. They paid tribute to him for his services by holding peace candles in their hands.
Different faith leaders, namely Sardar Janam Singh (Head Granthi Gurdwara Nankana sahib), Sardar Amarjit Singh, Sardar Charen Singh, Revd. Samouil Nawab, Pastor Samson, Pandit Mangat Ram Sharma, and Pandit Amarnath Ratan Kumar expressed their views on the occasion and stressed the need of promoting interfaith harmony to offset the challenges facing humanity in a proactive manner.
They also appreciated the services of Minhaj-ul-Quran International under the leadership of Dr Muhammad Tahir-ul-Qadri with special reference to his Fatwa against terrorism. They said that Dr Tahir-ul-Qadri is leading from the front in the efforts for restoration of peace and promotion of harmony and peaceful coexistence in the world. They added that his efforts would help bridge the gulf amongst all religions of the world.