65th birthday of Dr Tahir-ul-Qadri celebrated worldwide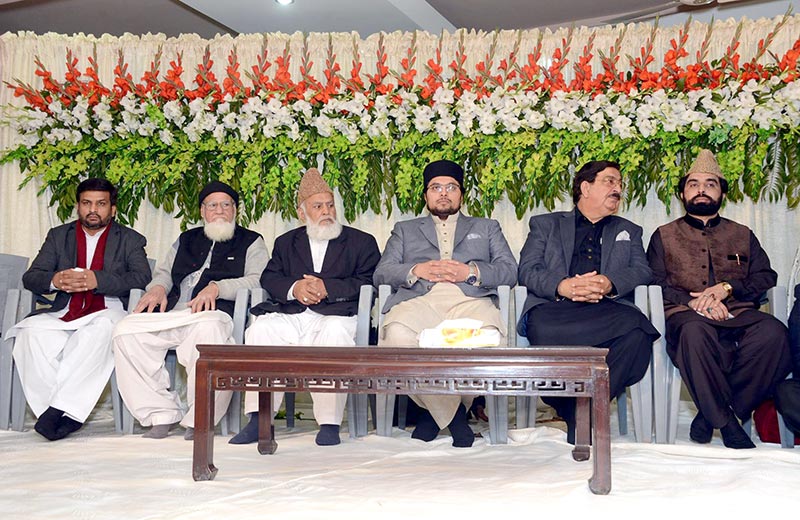 The Quaid day ceremonies were arranged throughout the world to celebrate the 65th birthday of PAT chief Dr Muhammad Tahir-ul-Qadri on February 19. Cakes were cut and special prayers were made on the occasion. The central celebration ceremony in this regard took place at the secretariat of MQI in Lahore in which rich tributes were paid to Dr Qadri for his intellectual, research, political, welfare, religious and inter-faith services.
Dr Tahir-ul-Qadri attended the ceremony through video link. Other distinguished guests present on the occasion were President of MQI Dr Hussain Mohi-ud-Din Qadri, PAT Secretary General Khurram Nawaz Gandapur, Chief Organizer PAT Maj (r ) Muhammad Saeed, Mufti Abdul Qayyum Khan Hazarvi, Australian Professor Dr Herman Ruberg, GM Malik, Syed Altaf Hussain Shah, Muhammad Zahid from Ireland, in addition to the staff members, workers and leaders of MQI in large number.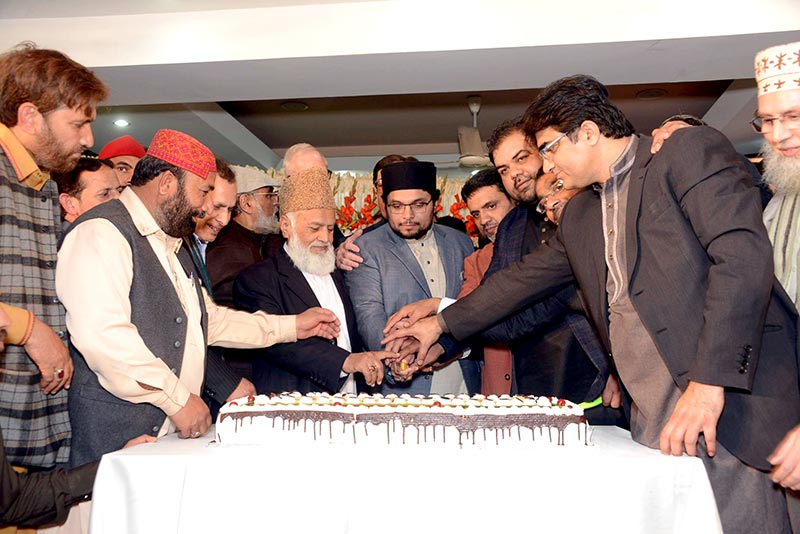 Addressing the central ceremony, Dr Hussain Mohi-ud-Din Qadri said that Dr Tahir-ul-Qadri's services and contributions in the fields of education, human welfare, international peace, interfaith dialogue and harmony and human rights are spread across the continents. He said that amazing scholarly work undertaken by Shaykh-ul-Islam is not only paying the debt of centuries but also giving the Muslim community the unmatchable gift of knowledge.
Dr Hussain Mohi-ud-Din Qadri said that Dr Tahir-ul-Qadri not only made the people aware of the root causes of the challenges facing Pakistan but also presented his revolutionary vision for a strong, peaceful and prosperous polity. He said that if the Pakistani nation is serious about changing its condition, getting rid of problems like energy crisis, unemployment, and backwardness, and wants to regain its lost place in the comity of nations, then it will have to act upon the vision of Shaykh-ul-Islam.
Muhammad Zahid, guest from Ireland said on the occasion that more than 15000 teachers are employed in the educational institutions established by Dr Qadri where they are busy in educating the poor and downtrodden sections of society. He said that provision of thousands of employment opportunities is a great work of Dr Qadri. He said that the Islamic world is lucky that it has the person of Dr Qadri's stature present among them, adding that he is the asset of the whole humanity. He said that Shaykh-ul-Islam is held in high esteem in the outside world owing to his scholarly, educational and spiritual services. He said that Dr Qadri is the only leader who gave the humanity intellectual guidance for elimination of terrorism.
Minhaj Internet Bureau presented a gift of new multi-media website to Dr Tahir-ul-Qadri consisting of the speeches on this birthday, which was inaugurated by Dr Hussain Mohi-ud-Din Qadri.
A special Dua was made for good health and long life of Dr Tahir-ul-Qadri on the occasion.