Keys of double-storey house handed over to father of Shaheed Muhammad Umar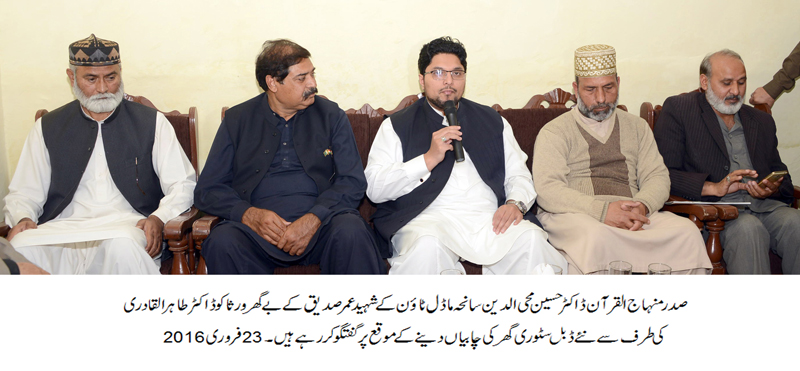 On behalf of PAT Chairman Dr Muhammad Tahir-ul-Qadri, the keys of a double storey house were handed over to Mian Muhammad Siddique, the father of Muhammad Umar Siddique yesterday. It is pertinent to mention here that Muhammad Umar Siddique was martyred on June 17, 2014 in Model Town tragedy in Lahore. He is the fourth homeless martyr of a family who was the sole breadwinner for his parents.
Tears came up in the eyes of Mian Muhammad Siddique when he was handed over the keys of the house. He expressed his gratitude to Dr Tahir-ul-Qadri, Dr Hussain Mohi-ud-Din Qadri and entire MQI. He said that he would only feel peaceful when the killers of innocent people in Model Town will face justice for their wrongdoings.
President of PAT Federal Council, Dr Hussain Mohi-ud-Din Qadri gave the keys to the father of Shaheed Muhammad Umar Siddique in a ceremony held in his house.
Talking to media men and the party workers on the occasion, Dr Hussain Mohi-ud-Din Qadri said that Muhammad Umar is the fourth Shaheed whose family did not own a house to live and their breadwinner was martyred. He said that the family members of the Shaheed chronicled a new chapter of commitment with the ideology by rejecting the offer of assistance of millions of rupees by the filthy rich rulers. He said that it is our pledge with the sacred blood of the martyr that we would take revenge for every drop through law of the land.
PAT Chief Organizer Maj (r ) Muhammad Saeed, Ahmad Nawaz Anjum, Sohail Ahmad Raza, Dr Tanvir Azam Sandhu, Noorullah Saddiqi, Haji Muhammad Ishaq, Shahzad Rasool, Hafiz Ghulam Farid, and other leaders of the PAT and MQI Lahore chapter were also present on the occasion.
Dr Hussain Mohi-ud-Din Qadri said that great workers of MQI have given a message of revolution to the motherland through the supreme sacrifice of their lives. He said that the PAT's version of revolution lies in strict implementation of the Constitution and rule of law. He said that the goons of the ruling party perpetrated savagery by opening fire on the innocent men and women on June 17. He made it clear that PAT and MQI would never leave the sacrificing workers alone.