Delicate religious matters should not be discussed publically: Faiz-ur-Rehman Durrani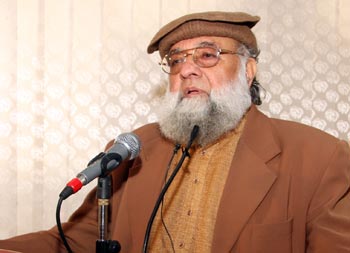 Amir-e-Tehreek of MQI Sahibzada Faiz-ur-Rehman Durrani has said that Dr Tahir-ul-Qadri presented cogent, spiritualizing arguments to support enactment of law for protection of respect and sanctity of prophethood for 18 long hours in the Islamic Shariat Court and proved that the one indulging in blasphemy deserves to be given capital punishment and that his repentance will not be accepted as well.
Faiz-ur-Rehaman Durrani asked the Ulama not to discuss the delicate scholarly matters in streets and refrain from inflicting more confusion and anxiety on the people on as definite and settled matters as blasphemy law, adding that our people are already victim of terrorism, poverty, backwardness and under-development and they should not be thrown into cauldron of sectarianism.
Sahibzada Faiz-ur-Durrani expressed these views while talking to a delegation of Minhaj Ulama Council here at the central secretariat.
Faiz-ur-Rehman Durrani said that the matter of taking legal action against a blasphemer and how to punish him for the offence is a matter related to procedure of law. He said that talking about procedure on application of punishment does not mean raising a finger on the law. He said if permission was granted to individuals to mete out punishment to people without recourse to law and courts, it will put the country into chaos. He said that it is unfortunate some unwise people use delicate religious matters for political vested interests causing feuds to erupt. He said that it is duty of religious scholars to adopt responsible behavior and play their role in creating unity, harmony and spirit of oneness in the nation.