25 Muslim, Christian & Hindu couples tie the knot at mass marriage ceremony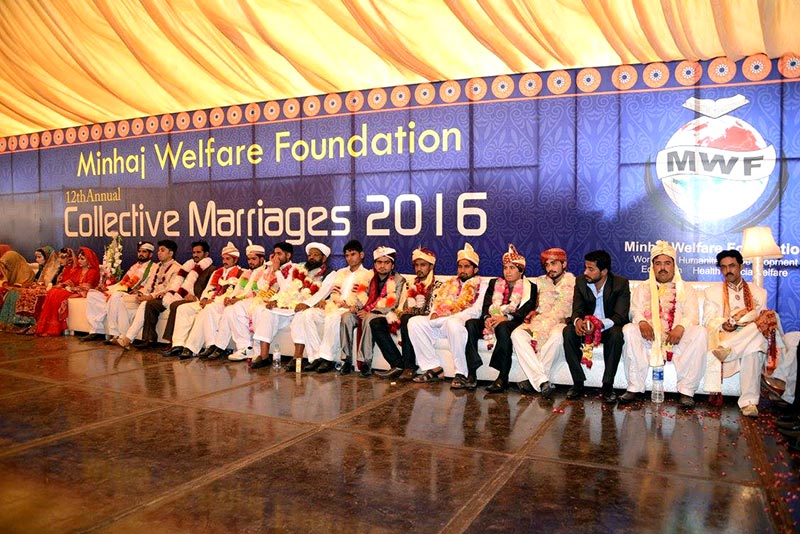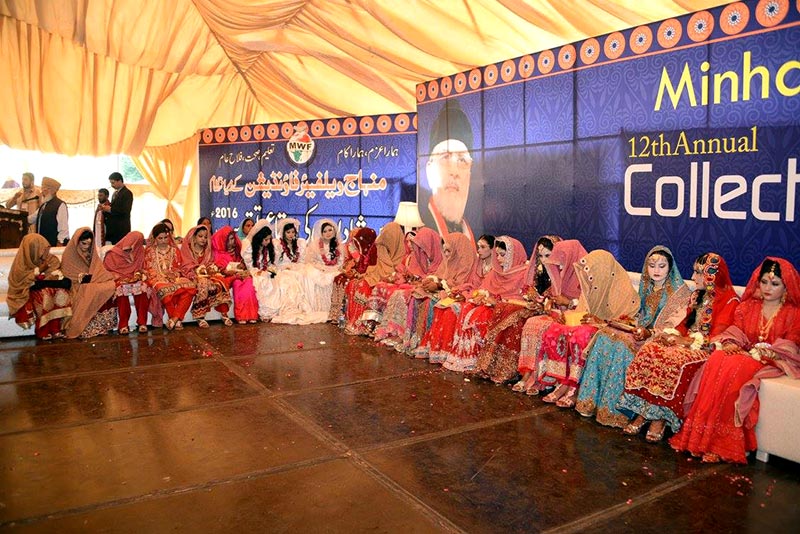 The 12th annual mass marriage ceremony was held in the playground in front of the MQI secretariat on April 3, 2016. Twenty-five Muslim, Christian and Hindu couples tied the knot in the ceremony. Necessary household items of worth Rs. 1.5 lacs were gifted to every bride.
The proceedings of the mass marriage ceremony got underway with the recitation of the holy Quran followed by Naat. Mufti Abdul Qayyum Khan Hazarvi, Allama Rafique Randhawa, Allama Muhammad Mohsin, Allama Nawaz Zafar, Ghulam Murtaza Alvi, Amarnath Randhawa, Pandit Bhagat Lal, Manuhar Chand, Dr James Chanan, and Reverend Samuel Nawab solemnized the Nikah of the newly wedded Muslim, Hindu and Christian couples respectively.
Internationally renowned human rights activist Ansar Burney was the guest of honour at the mass marriage ceremony. The distinguished participants who attended the function included Faiz-ur-Rehman Durrani, Mr. and Mrs. SM Zafar, Mrs. Ansar Burney, PTI leader Ms. Fauzia Kasuri, MPA Sadia Sohail, MQI Holland leader Dr Abid Aziz, MWF Director of Europe Allama Muhammad Iqbal Azam, Mian Zahid Islam, Dr Harman, Sohail Ahmad Raza, renowned dress designer BG, Dr Sarwat Shujaat, Brig. (r) Iqbal Ahmad Khan, GM Malik, Haji Khalid, Sajid Bhatti, Raja Zahid, Shahzad Rasool, Tahir Amin, Hafiz Ghulam Farid, and Ms. Attia Banin. MWF Director Syed Amjad Ali Shah and his team were the hosts of the ceremony.
Addressing the ceremony, internationally known human rights activist Ansar Burney said that Muslim and Christians were martyred in the Gulshan-e-Iqbal suicide bombing and by holding a mass marriage ceremony of Muslims, Hindus and Christians in the same city, MQI has given a message to the world that the only identity of a citizen living in Pakistan is Pakistan and that we love our county irrespective of any discrimination of caste, creed and colour. He said that time has come that all of us rise together and serve our country like a nation without letting any sub-national identity drive a wedge. He said that he who does not love his land has no right to use the services it offers.
Ansar Burney congratulated the newly wedded couples and said that the couples are made in heaven. He prayed for matrimonial success of the couples. He said that he is pleased to know that MQI is gathering people of all faiths and sectors without any discrimination and promoting Pakistanism among the nation. He said that Dr Tahir-ul-Qadri deserves credit for this. He said that we pray for health and long life of Dr Tahir-ul-Qadri so that he continues to spread love and peace in the world. He said that peace is essential message of Islam. He recalled that it is the same ground where a dozen of PAT workers were killed. He said that the people were killed mercilessly and that their heirs continue to look for justice to date, which is unfortunate.
PAT Secretary General Khurram Nawaz Gandapur thanked the guests. He said that the young couples who tied the knot today are our sons and daughters. He said that MQI is striving to serve the human without any discrimination of caste, creed and colour in the light of vision of Dr Tahir-ul-Qadri. He particularly extended his gratitude to Mr and Mrs Ansar Burney and Mr. and Mrs SM Zafar for taking time to attend the ceremony.
Syed Amjad Ali Shah briefed the participants of the ceremony about the mass marriage project. He said that deserving couples are married here at the secretariat of the MQI every year and all the expenditures are borne by MWF. He said that every bride is given household items of worth Rs. 1.5 lacs.
Ansar Burney and his wife gave away gifts to the bridegrooms and brides separately. Faiz-ur-Rehman Durrani made the concluding Dua. More than 1000 guests were entertained with delicious food.