PAT takes out protest in front of Punjab Assembly in wake of Panama Papers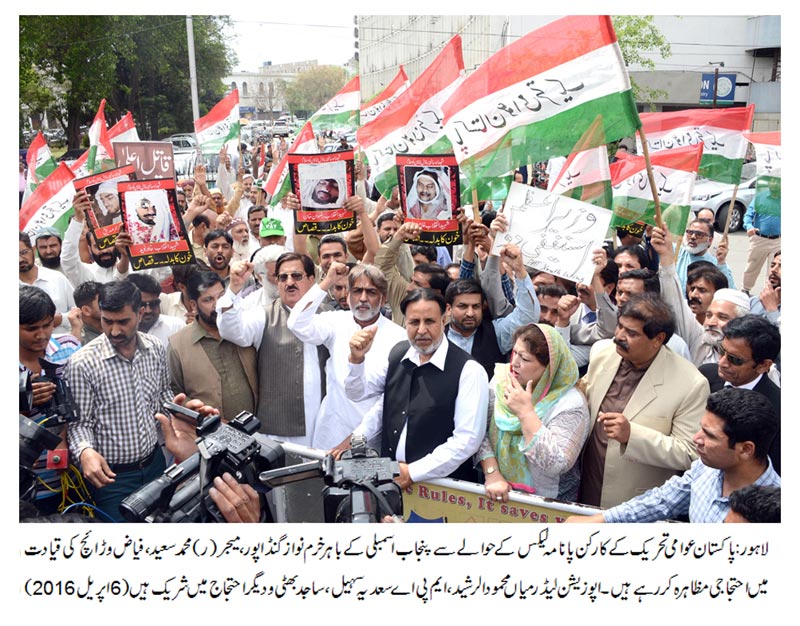 Pakistan Awami Tehreek (PAT) held a demonstration in front of the Punjab Assembly building to register its protest in the aftermath of the Panama scandal. The participants of the demonstration demanded of the Prime Minister to tender his resignation and establishment of the judicial commission under the Chief Justice of Pakistan. They said that they want the rulers to relinquish power and do not support the setting up of dummy commissions.
Opposition leader Mian Mahmood-ur-Rasheed and Saadia Sohail MPA attended the demonstration as a mark of their solidarity. Khurram Nawaz Gandapur, Major (r ) Muhammad Saeed, Ahmad Nawaz Andjum, and Fayyaz Warriach led the demonstration whereas it was addressed by Hafiz Ghulam Farid, Ch Afzal Gujjar, Mazhar Alvi and Ayesha Shabbir. The hundreds of workers belonging to different forums of PAT took part in the demonstration. The protesters chanted 'Go Nawaz Go' slogans. They showed their disapproval of the recently announced commission. They also raised slogans for justice for the heirs of the Model Town martyrs. They demanded the release of the report of the Model Town judicial commission.
Speaking on the occasion, Mian Mahmood-ur-Rasheed said that the Sharif brothers come into government for the sake of their businesses and money. He said that brutality was committed against the PAT workers on June 17 and our support is with them. He said that we hold the peaceful struggle of the PAT workers in high esteem. He said that these civilized workers of Dr Tahir-ul-Qadri are role model for other political parties. He said that it is our demanded that those involved in Model Town tragedy are meted out punishment under the law. He also demanded that those whose names have been mentioned in the Panama papers should dissociate themselves from their position of authority.
PAT Secretary General Khurram Nawaz Gandapur said that the Panama leaks have unmasked the faces of the ruling family. He asked how can anyone who is involved in a scam appoint a retired judge and order an inquiry. He said that we can take to streets for restoration of rights of 190 million people and riddance of corruption kings. He said that we cannot see Pakistan being looted as patriotic citizens of this country. He said that the facts and figures Dr Qadri rolled out regarding corruption of the ruling family are being testified today. He said that the scope of protest will be extended to the rest of the country.
Major (r ) Muhammad Saeed said in his speech that the explanations offered by the PM and his family members do not make any sense. He asked the rulers to resign from their position and offer themselves for investigation. He further stated that they should bring back their looted money and deposit it in national kitty.