Impeachment process to be initiated against PM: Dr Tahir-ul-Qadri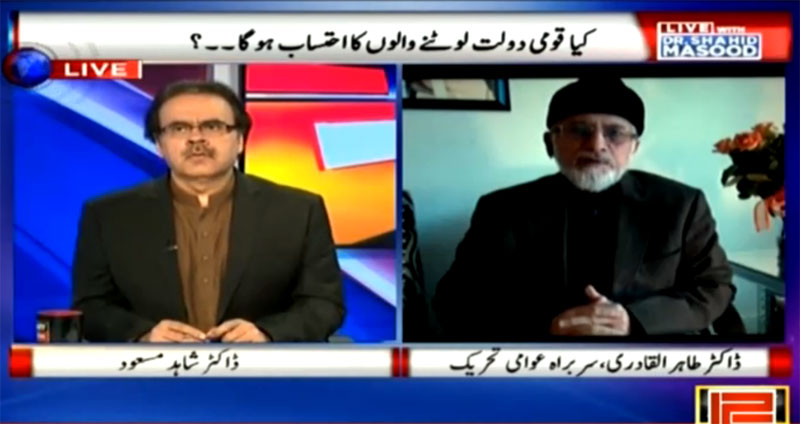 PAT Chairman Dr Muhammad Tahir-ul-Qadri has said that the Panama leaks are not a conspiracy against anyone. He said that Allah Almighty has unmasked the faces of the looters. He asked the Chief Justice of Pakistan to take suo moto notice of the leakage and initiate the impeachment process forcibly. He said that the Supreme Court has already disqualified one PM in a contempt of court case, adding that the people of Pakistan should take a cue from their counterparts in Iceland and take to streets against the biggest scam of history.
Dr Tahir-ul-Qadri expressed these views while giving an interview yesterday. He said that the Sharif brothers commit robbery but do not leave any trace. He said that the former Prime Minister of New Zealand told him in 1995 that PM Nawaz Sharif has 50% share in a steel mill in New Zealand, asking does any financial institution of Pakistan have any knowledge of this. He said that no one has any problem with the business of the PM or his children. What the people are really disturbed about is lies and money laundering. He said that offshore companies are set up to protect the ill-gotten money.
Dr Qadri said that Nawaz Sharif and his family have hundreds of such investments in dozens of countries around the world. He said that the commissions are established to conceal facts, asking as to where the report of Justice Baqar Najafi-led Commission has gone. He said that the Sharif brothers do the politics of purchase and sale and have rendered politics into a profitable business. They buy elections and assemblies and then turn the whole of Pakistan into a business market after coming into power. They run private businesses in official capacity, adding that they have the services of carriers and front men.
The PAT Chairman said that he is ready to offer his life to save Pakistan, vowing that he would continue to fight against extremism, terrorism and corruption till the last breath of his life. He said that 14 people were martyred and 85 more were seriously injured in Model Town, adding that about two years are about to pass but justice has not been done. He said that the ministers are making fun of themselves by getting a resolution passed in the Punjab Assembly against Panama leaks. He said that they are servants and take salary for telling a lie. He said that there are more than 40,000 big companies that help in concealment of assets and only documents of one such company have been leaked so far, adding that more revelations are likely in the coming days. He said that the Prime Minister's speech to the nation did not carry any value. He said that it is not the time of inquiry but of action.