Grand Mufti of Egypt lauds Dr Tahir-ul-Qadri's services for peace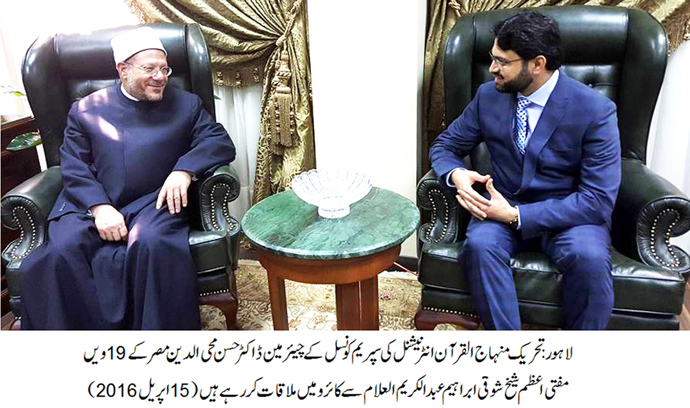 Dr Hassan Mohi-ud-Din Qadri, Chairman of the MQI Supreme Council, held a meeting with the 19th Grand Mufti of Egypt, Shaykh Shawki Ibrahim Abdel-Karim Allam in Cairo. The matters of mutual interest came under discussion in the meeting.
Speaking on the occasion, the grand Mufti said that the Islamic world is passing through critical times. He said that during such trying and testing times, the Muslim world needs to forge unity in its ranks to fight off challenges. He said that formation of a unifocal strategy has become inevitable at the collective level to take on the gravest of challenges. He said that the opinion makers, scholars, intellectuals and prominent people belonging to different walks of life will have to put their heads together and come up with a joint strategy in this regard. He said that the responsibility to steer the Muslim world out of raging crisis lies on the Muslim intellectual elite and scholars.
The Grand Mufti said that the Muslim world is confronted with numerous challenges from the anti-Islam forces. He, however, added in the same breath that internal strife, lack of tolerance, terrorism, militancy and extremism are weakening the Muslims politically, socially and economically. He appreciated the services of Dr Muhammad Tahir-ul-Qadri for elimination of terrorism and promotion of peace and interfaith harmony in the world.
Dr Hassan Mohi-ud-Din Qadri briefed Shaykh Shawki about various projects of MQI and invited him to visit Pakistan. He told the grand Mufti that MQI under the leadership of Dr Muhammad Tahir-ul-Qadri is working to save the young generation from influence of terrorism, militancy and extremism. He said that Islamic Curriculum on Peace and Counter-Terrorism has been launched which contains authentic material from the Holy Quran and Sunna regarding the Takfiri groups. He said that lectures, seminars and workshops continue to be held throughout the world for promotion of peace.