PM's address was joke with nation: Dr Tahir-ul-Qadri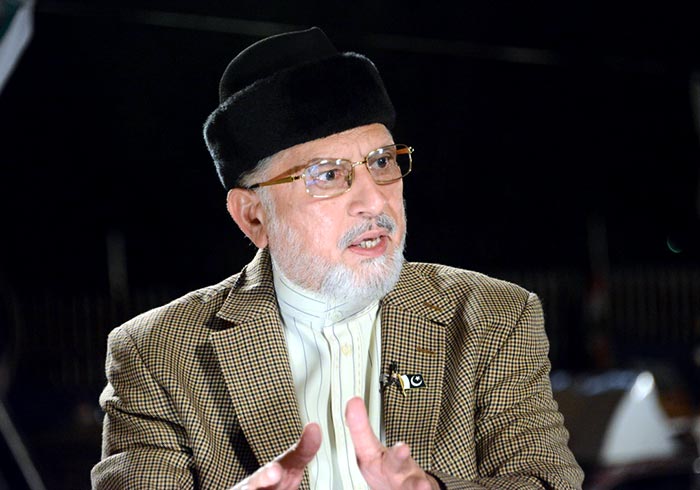 In his reaction to the Prime Minister's address to the nation, PAT Chairman Dr Muhammad Tahir-ul-Qadri has said that revelations made by the Panama papers are proven and there is no need for further investigation. He said that the Commission will not produce any result, adding that the whole nation has been rendered clueless once again. He said that the Prime Minister did not address the nation but cracked joke with it. He said that threatening tone and tenor of the PM in his speech is the result of the London treatment.
Dr Qadri said that the PM did not hurl threat at his political opponents or media but at someone else. He said that the PM should bring the looted money back instead of resorting to threats and tender his resignation like other prime ministers. He said in response to the PM's offer to resign that Punjab Chief Minister had also given a similar statement in the aftermath of the Model Town killings. And when the judicial commission held him responsible, instead of resigning, he sat on the report refusing to release it.
The PAT Chairman criticized the PM for using harsh words against media. He said that media is only showing the truth. He said that since the rulers have no satisfactory answers to the questions post-Panama, so that is why they have come down to threatening media. He said that the products of the dictatorship have not been able to have democratic mindset after 30 years. He said that the PM does have his life and death in Pakistan but his assets are stashed abroad. He said that the industrialist PM should tell the nation how much tax he has been giving. He said that the exile the PM has talked about was 10-year deal to stay away from politics which he happily accepted and left for Jaddah. He said that the deal papers carry signatures of the Sharif brothers, adding that the memory of the people is not short that they would forget their political and economic crimes.
Dr Tahir-ul-Qadri said that Ishaq Dar, who is present finance minister and close relative of the PM, admitted to doing money laundering on behalf of the PM. He said that in presence of such evidence, no further proof is required. He said that it is due to lenient view of the nation that the PM got a chance to hurl threats. He said that Prime Minister's attitude is reflection of his mental anxiety after the Panama papers.