Government lacking foreign policy direction: Dr Tahir-ul-Qadri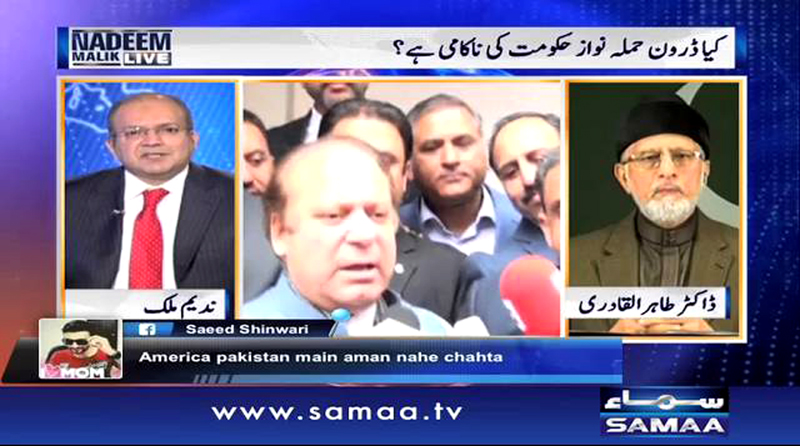 PAT leader Dr Muhammad Tahir-ul-Qadri has said in an interview that during the match-making process in olden times, the concerned families would not meet with each other. It was the experienced match-making middlemen and women who used to settle all issues between them. He said that in the same way, it is not important whether the 'stakeholders' meet each other in case of the Panama leaks, adding that some middlemen are playing their role under the same culture. He said that the real ToRs are being settled in London. He said that 8 people will be on the one side, while two/three will be on the other at the end of the proceedings of the ToRs committee.
Dr Tahir-ul-Qadri said that a government which does not have its Minister for Foreign Affairs is not expected to have any foreign policy direction. He said that Pakistan's immediate neighbours have turned against it due to corruption and incompetence. He said that the credit for excellent relations with China and Pakistan-China Economic Corridors goes to the military leadership. He said that the agenda of the present government is to loot and plunder. He said that no sane person has any role in the current corrupt system. He said that incompetent people are running the system of the country.
Dr Qadri said that we appeal to the Army Chief once again to play his role for justice in the Model Town case. He said that our FIR was not being registered and it was on intervention of the COAS that the FIR was registered, adding that it is our request to him to play his role for provision of justice as well.
He said that a government which is interested in corruption cannot take care of national security. He said that the high-ups of the government have no interest in foreign and economic policy of the country. He said that tax thieves and defaulters are sitting in the Parliament and their sole agenda is to benefit from the system of patronage and rent-seeking.