People like Muhammad Ali are born in centuries: Dr Tahir-ul-Qadri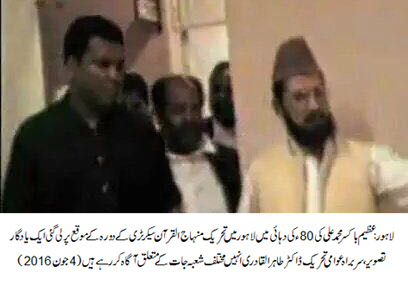 PAT Chairman Dr Muhammad Tahir-ul-Qadri has expressed his deep sense of grief and sorrow on the passing away of legendary boxer Muhammad Ali. Paying tributes to late Muhammad Ali, he said that he was a great sportsman, a human rights campaigner and a proud Muslim who rendered amazing service to Islam, humanity and sports throughout his life, adding that such personalities are born in centuries. He said that Ali did boxing in the ring and served humanity outside the ring. He said that he was not only a great sportsman but also a metaphor of struggle against racial discrimination, extremism and oppression. He stood for equality and respect.
Dr Tahir-ul-Qadri said that Muhammad Ali's services for rights of Muslims after acceptance of Islam will always be remembered.
It is pertinent to mention here that during his visit to Pakistan, Muhammad Ali visited the central secretariat of MQI Lahore and held a meeting with Dr Tahir-ul-Qadri. He expressed his immense appreciation for educational, spiritual and religious work of the organization.