June 17 protest on The Mall to be peaceful: Dr Hassan Mohi-ud-Din Qadri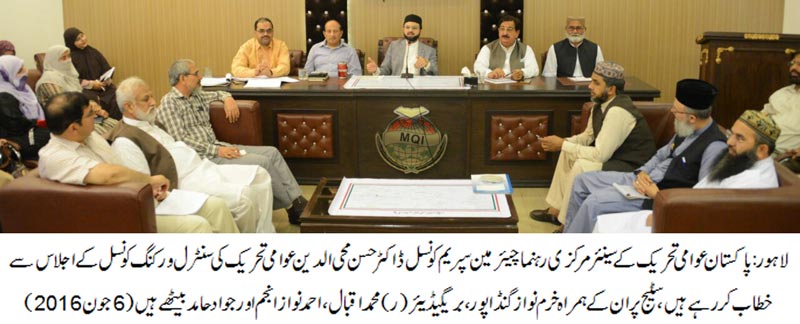 Addressing the meeting of Central Working Council, PAT senior leader Dr Hassan Mohi-ud-Din Qadri has asked as to why the heirs of martyrs of Model Town tragedy have not got justice despite passage of two months. He asked whether provision of justice is not part of responsibility of the courts and justice system. He said that people of flesh and blood, not ants, were mowed down on June 17, adding that there is no way we are going to forgive the killers. He said that we have said it time and again that protest on June 17, 2016, is peaceful and asked the government to refrain from creating hurdles.
The CWC meeting was attended by Khurram Nawaz Gandapur, Sahibzada Faiz-ur-Rehman Durrani, Ahmad Nawaz Anjum, GM Malik, Altaf Hussain Shah, Brig. (r) Iqbal Ahmad Khan, Noorullah Saddiqi, Jawad Hamid, Allama Farhat Hussain Shah, Amjad Ali Shah, Hafiz Ghulam Fareed, Chaudhary Irfan Yousaf and others.
Jawad Hamid, in-charge of arrangement of protest, briefed the CWC about the administrative preparations to date. He told the house that arrangements for 'iftar', sehr and Tarawih prayers' have been completed. Matters pertaining to return and reception of Dr Tahir-ul-Qadri also came under discussion.
Speaking in the meeting, Khurram Nawaz Gandpaur said that mafias continue to rule the roost in the name of politics, while constitution has been restricted for reference in the courts of law. He said had there been constitutional supremacy, Punjab police would not have taken the lives of innocent people in the broad daylight in Model Town. He said that PAT is waging a struggle for rights of 190 million people, adding that they would have to come out for their rights as well.
The meeting supported the demands of protesting teachers and condemned the government for not paying heed to their demands. It also condemned artificial price hike and increase in load-shedding in the holy month. It said that there is different schedule in Lahore, Karachi and Islamabad and the rest of the country where the people are forced to brave 16-hour long power outage and resultant water shortage.