Dr Tahir-ul-Qadri to deliver his keynote speeches during Itikaf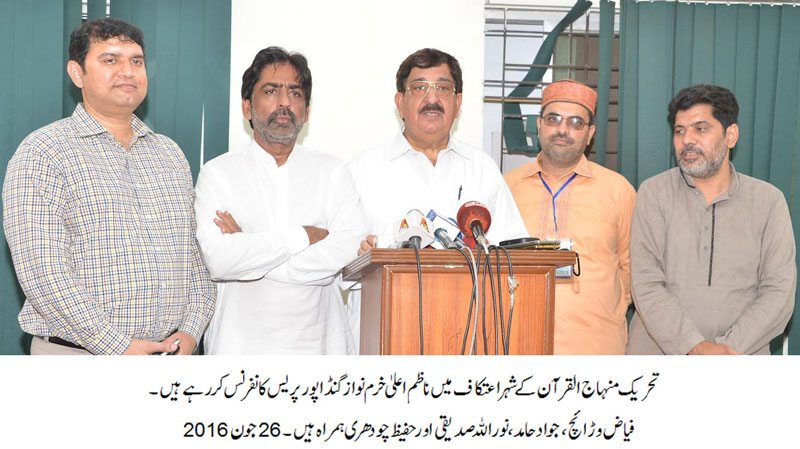 Addressing the press conference in the Itikaf City in Township Lahore, PAT Secretary General Khurram Nawaz Gandapur has said that Shaykh-ul-Islam Dr Muhammad Tahir-ul-Qadri will address the thousands of residents of Itikaf City after Traveh prayers daily. He said that more than 20,000 people have registered themselves for Itikaf 2016, adding that they were asked to bring their original ID card with them in view of security and computerized registration has been done on the occasion.
Fayyaz Warraich, Jawad Hamid and Nooruallah Siddiqui were present accompanied the PAT Secretary General during the press conference. Talking about the Itikaf City, Khurram Nawaz Gandapur said that it is the largest Itikaf gathering after the one held at the Two Holy Mosques. He said that thousands of people dedicate themselves to worship besides getting spiritual and moral training for ten days. He said that a large number of people also attend the optional Itikaf for spiritual blessings. He said that chief highlight of the ten-day spiritual retreat is the speeches of Dr Tahir-ul-Qadri on a varity of scholarly subjects.
The PAT Secretary General said that the Itikaf City has been divided into 15 blocks with 500 sections. He said that every section contains 40 people headed by one person who is responsible to ensure delivery of food at sehr and iftar. He further said that a security detail of 650 professionals including volunteers has been set up inside the venue, whereas police will guard the venue from outside. He said that a team of ten doctors will perform their duties around the clock in various shifts and a pharmacy has also been established which will remain open for 24 hours. He said that special security arrangements have been made and cameras have been installed for monitoring.
Khurram Nawaz Gandapur said that 50 administrative committees were formed to ensure all arrangements. He said that MQI wrote a letter to the government authorities for exemption of the Itikaf City from load-shedding but it has not been responded to. He said that a generator has been arranged to provide electricity to the City.