Individuals strengthened & institutions weakened in Pakistan: Dr Tahir-ul-Qadri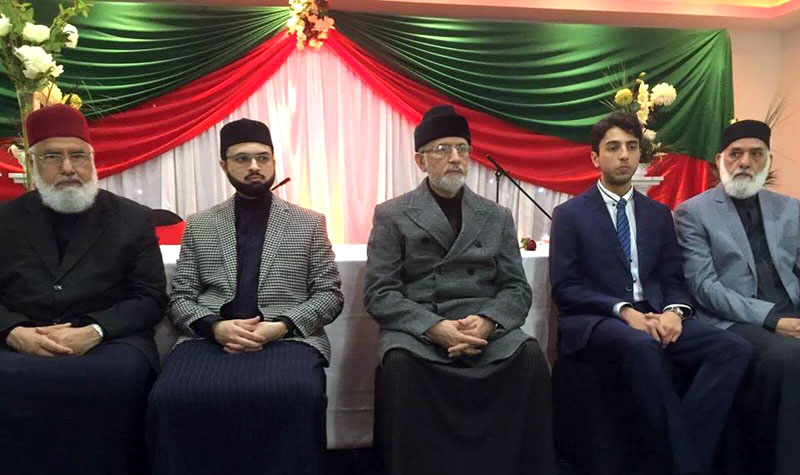 Talking to a group of local Pakistani community including traders, doctors and the PAT workers, Dr Muhammad Tahir-ul-Qadri has said that when the law and institutions responsible for its implementation turn a blind eye to the corruption and oppression of the powerful, then no one can stop such a society from plunging deep into abyss of decline and darkness. He said that unfortunately individuals were strengthened and the institutions were weakened under the garb of democracy.
The PAT Chairman expressed his deep sense of grief on the killings of dozens of people in a National Day ceremony of France in Nice city. He said that those who take the lives of innocent people have no country or a religion.
Dr Tahir-ul-Qadri said that corruption and incompetence have made lives miserable for 190 million people of Pakistan. He said that unless the nation gets rid of economic terrorism, armed terrorism will not be eliminated nor will the country be put on the path of progress and prosperity. He asked the overseas Pakistanis to play their role to rid the country of corruption and corrupt political mafias. He said that they should boycott the corrupt leaders and their parties besides convincing their relatives not to strengthen the hands of such people.
Dr Qadri said that the PAT has been waging a peaceful struggle against corruption, injustice and oppression since the day one of its inception. He said that we have rendered many sacrifices including the martyrdom of our workers and the police high handedness while fighting the corrupt system. He said that even he faces 40 fake cases for raising a voice for the rights of the people. He said that when he demanded the implementation of 40 Articles of the Constitution that safeguard the rights of the poor, 40 cases were filed against him and the rulers gave him the 'gift' of Model Town tragedy. He said that the PAT workers have not been budged from their stated goal despite high handedness of every kind, adding that their raging sea of people on The Mall on June 17 was a proof of their courage and steadfastness on the occasion of the second anniversary of the Model Town tragedy.
Commenting on the news item of withdrawal of NAB reference against the Federal Finance Minister, Dr Tahir-ul-Qadri said that no institution of the country can take action against the government functionaries as long as they are in power.