MQI Lahore pays tributes to services of Edhi sahib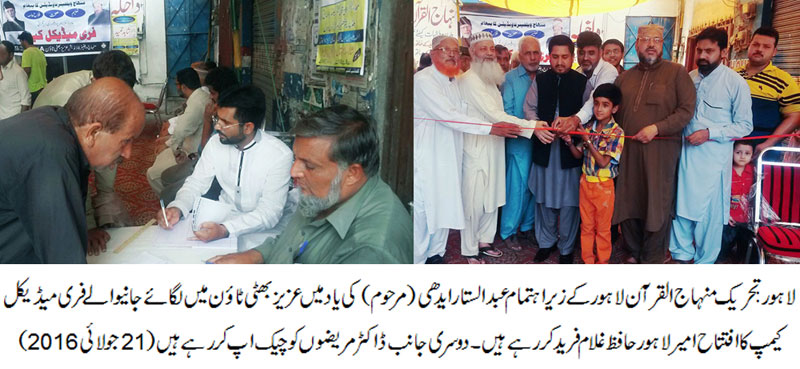 Hafiz Ghulam Farid, head of MQI Lahore, has said that the services of late Abdul Sattar Edhi for humanity are appreciable. He said that it is the responsibility of well-to-do and affluent people to make Mr. Edhi their role model and spend some part of their life for the welfare and well-being of the underprivileged sections of society. He said that MQI has been making sustained efforts in the service of humanity without any discrimination of caste, creed and colour under the leadership of Dr Tahir-ul-Qadri. He said that working of more than 700 schools across the country is its glaring proof.
Hafiz Ghulam Farid expressed these views while addressing on the occasion of a free medical camp organized in Aziz Bhatti Town in remembrance of late Abdul Sattar Edhi under the banner of MQI Lahore. Ishtiaq Hanif Mughal, Mian Mumtaz Hussain, Asghar Ali Naz, Raja Mahmood Aziz, Shahbaz Hussain Bhatti, Aslam Pervez Qadri, Haji Muhammad Arashad Tahir, Shabbir Naseer and a large number of peole belonging to various walks of life attended the programme.
Hafiz Ghulam Farid said that Abdul Sattar Edhi dedicated his whole life in the service of the suffering humanity. He said that MQI will continue to arrange similar programmes to pay tributes to the personality and work of Edhi sahib.
Shahbaz Hussain Bhatti, local MQI leader, said in his speech that a team of five experienced doctors is present in the medical camp along with their staff. He said that free medical tests are being conducted for the patients and medicines are being provided to them after proper check-up. He said that such medical camps will be organized on monthly basis to honour the contributions of Edhi sahib.