National unity the only answer to our challenges: Dr Tahir-ul-Qadri's message on Independence Day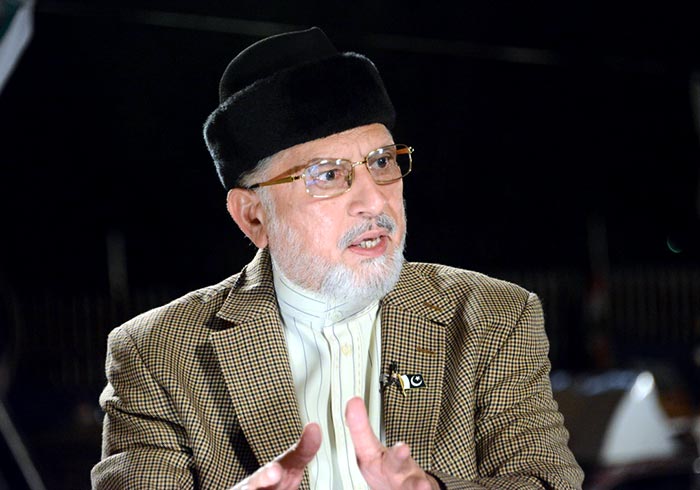 In his special message on the occasion of the Independence Day, PAT Chairman Dr Muhammad Tahir-ul-Qadri has said that the nation should make a vow to get rid of corrupt and incompetent political mafia on the 69th Independence Day. He said that the political elite of the country did not learn any lesson from its dismemberment in 1971, so much so that the residence of the founder of Pakistan did not remain safe. He said that corruption and incompetence led to terrorism. He said that the country will neither stand on its feet nor will terrorism end unless incompetent corrupt mafia and economic terrorists are held accountable for their acts of commission and omission.
Dr Tahir-ul-Qadri said that the lack of sense of security is the number one problem of the country, which has originated from injustice. He said that those who got power in the name of Muslim League, which was the Quaid's party, injured his soul and committed violation of the Constitution by illegally stashing their wealth abroad. He said that the terrorists shed the blood of innocent people in Quetta but the PM of the country chose to inaugurate the roads and bridges instead of putting all relevant heads together to ensure security of life, honour and property.
The PAT Chairman said that the only solution to Pakistan's problems lies in forging national unity and solidarity. He said that the time for the present generation has come to play their effective role to Pakistan a hub of peace, and prosperity for the coming generations. He said that the Quaid-e-Azam envisioned a country in which the powerful would not be able to exploit the weak and where all citizens irrespective of any discrimination of caste, creed and colour would enjoy equal rights. He said that there is no place for thieves, looters and robbers in the Pakistan of the Quaid.
Dr Qadri said that Pakistan stands at critical juncture in history. He said that our misfortune is that we are confronted with a combination of crises and incompetent rulers who are making matters worse. He said that the country remains mired in corruption, load-shedding and terrorism. He said that had the rulers spent the money that they are spending on shiny projects and their publicity on the power projects, the country would not have suffered power outages of 16 hours per day.
Dr Tahir-ul-Qadri congratulated the people of Pakistan including the overseas Pakistanis on the 69th Independence Day.