Muslim world burning in fire of ignorance: Dr Tahir-ul-Qadri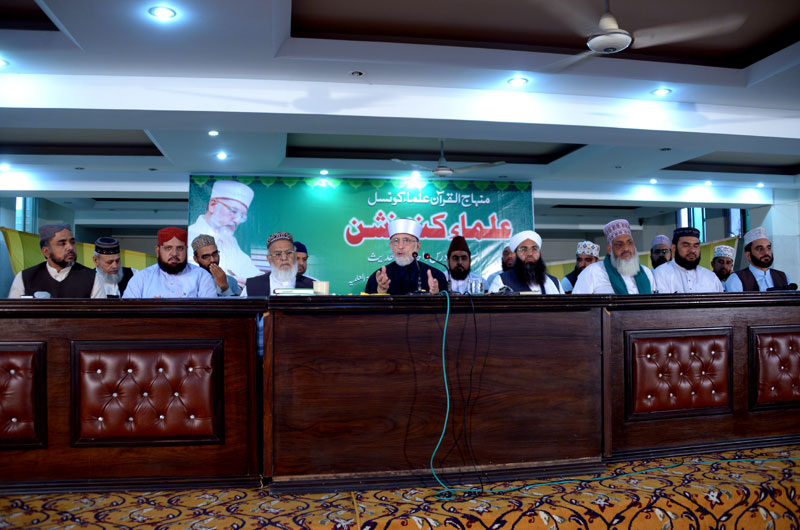 An Ulama and Mashaykh Convention was arranged in the central secretariat of MQI on August 10, 2016 under the banner of Minhaj Ulama Council in which Shaykh-ul-Islam Dr Muhammad Tahir-ul-Qadri gave permission of Hadith along with a lecture on the principles of Hadith.
The Convention was attended by leading religious scholars namely Mufti Abdul Qayyum Khan Hazarvi, Allama Imdadullah Khan, Allama Hafiz Nauman Jalandhari, Pir Syed Ghulam Jilani Shah, Allama Sayyid Farhat Hussain Shah, Allama Rana Muhammad Idrees, Allama Mushtaq Ahmad Noori, Dr Mufti Muhammad Kareem Khan, Dr Mufti Imran Anwar Nizami, Mufti Naeem Javed Noori, Allama Zia-ul-Haq Naqshbandi, Allama Prof Shabbir Anjum Qadri, Mufti Yousaf-ul-Qadri, Allama Muhammad Rafique Qadri, Allama Irshad Ahmad, Mufti Tanvir-ul-Qadri, Maulana Ghulam Dastgir Chishti, and Allama Mir Asif Akbar Qadri in addition to the students and teachers in large number.
While delivering his lecture on Hadith, Dr Tahir-ul-Qadri said that the holy Quran and Hadith are the basis of whole belief system. He said that claim of believing in the Holy Quran after denial of Hadith is based on falsehood. He said that there are dozens of Quranic verses in which Allah Almighty has ordained the faithful to obey Him as well as the Holy Prophet (peace and blessings be upon him), adding that at numerous places, the obedience of the Holy Prophet (peace and blessings be upon him) has been described as obedience of Allah Almighty.
Shaykh-ul-Islam said that Islam is a religion of knowledge, the Holy Prophet (peace and blessings be upon him) is the greatest teacher and our history is replete with many a scholarly achievement. He however added in the same breath that we remain bogged down in the darkness of ignorance contrary to higher traditions of enlightenment and intellectual loftiness. He said that our scholarly tradition has been buried in the ashes of inaction and we have made darkness of ignorance our destiny. He said that the Muslim world whose origin as well as the culmination is defined by excellence in knowledge is burning in the fire of ignorance today.
He said that we have forgotten that ignorance is our greatest enemy and that it is the biggest hindrance in our material and spiritual progress. He bemoaned the fact that literacy ratio is shamefully low in the whole Islamic world. He said that the greatest reason of our decline is that the beacon of knowledge has been taken away from us.
Shaykh-ul-Islam Dr Muhammad Tahir-ul-Qadri gave away certificates to the religious scholars. Quran Khawani was held and a special Dua was offered for the martyrs of the Quetta tragedy in the meeting.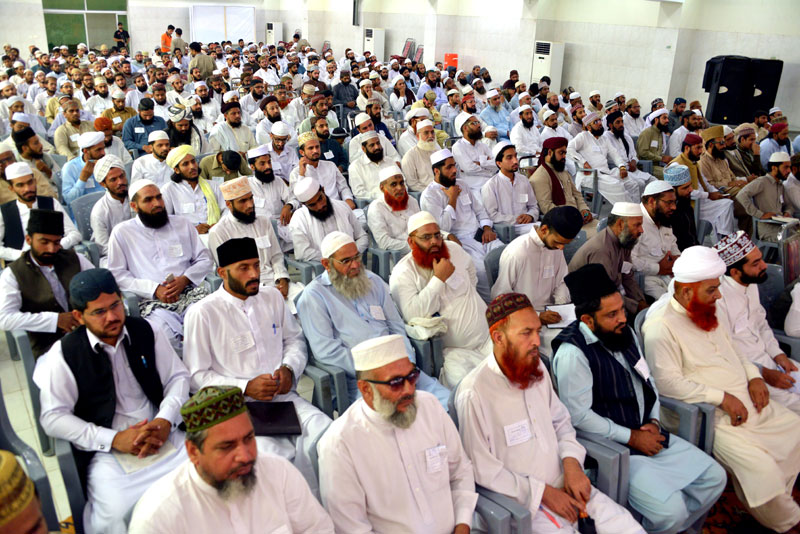 Speaking on the occasion, Dr Tahir-ul-Qadri said that terrorism in name of Jihad is not Islam but a grave conspiracy against it. He said that it is unfortunate that the leadership of Islam is in the hands of those who are the cause of infamy for Islam and those defending Islam have been scared. He said that the Holy Prophet (peace and blessings be upon him) described the fragrance of paradise forbidden for those who take the life of innocent people. He said that it is important to educate the students and seminaries on anti-terrorism measures. He asked the religious scholars to respond to pernicious propaganda of anti-Islam elements having Kharji thoughts with the power of conviction and arguments derived from the Holy Quran and Sunna.
Dr Qadri said that whether it is implementation of the NAP or combing operations, unless the security institutions take the control of these initiatives in their own hands, no concrete result would come out in next 17 months. He said that some people are trying to create a false impression of failure of the Operation Zarb-e-Azb successfully conducted by the Pakistan Army. He said that unstinted cooperation was assured over the unanimously adopted NAP despite all political differences with the government, but it has been proven right after 17 months that the nexus between corrupt and terrorist elements is the biggest hurdle in the way of struggle aimed at eliminating terrorism. He said that dozens of citizens lost their lives after the APS tragedy but insensitivity of the rulers has been glaring.