30 blind students complete 30-day computer courses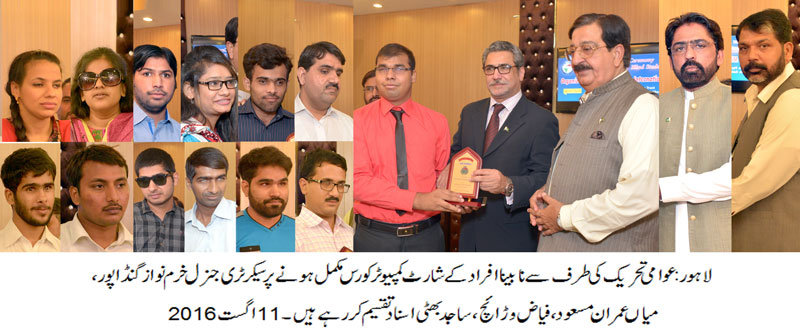 A ceremony was held under the banner of PAT to distribute certificates among the 30 visually impaired male and female students on the completion of computer short courses.
Addressing the ceremony, PAT Secretary General Khurram Nawaz Gandapur said that the blind people look towards the government to make their future bright but they get dragged and beaten on roads in return. He said that 30 male and female students wrote a letter to PAT Chairman Dr Muhammad Tahir-ul-Qadri for free computer courses, which was held accordingly and today 30 students are able to get the completion certificates.
Former provincial minister Mian Imran Masood was the guest of honour. Dr Ghulam Murtaza Alvi, Muhammad Sanaullah, Fayyaz Warraich, Sajid Bhatti and Jawad Hamid also addressed the ceremony.
Mian Imran Masood said that he has always been appreciative of Dr Tahir-ul-Qadri's worldwide welfare movement. He said that he is pleased that Dr Qadri put the visually impaired students on the path of education. He said that when society takes care of the underprivileged people, Allah Almighty certainly helps such efforts. He said that the blind people are part of our body politic and they are as much talented as any other person, adding that such efforts should continue. He congratulated Khurram Nawaz Gandapur on taking keen interest in the computer course.
The visually impaired students thanked Dr Tahir-ul-Qadri for arranging free computer course and prayed for his long life and good health. They said that when we go to the rulers for our rights, we are dragged and our self-respect is humiliated. They made a request to the rulers to consider the special people the part of our society and mete them respect and equality of rights.