Second round of protest campaign to be announced soon: Dr Tahir-ul-Qadri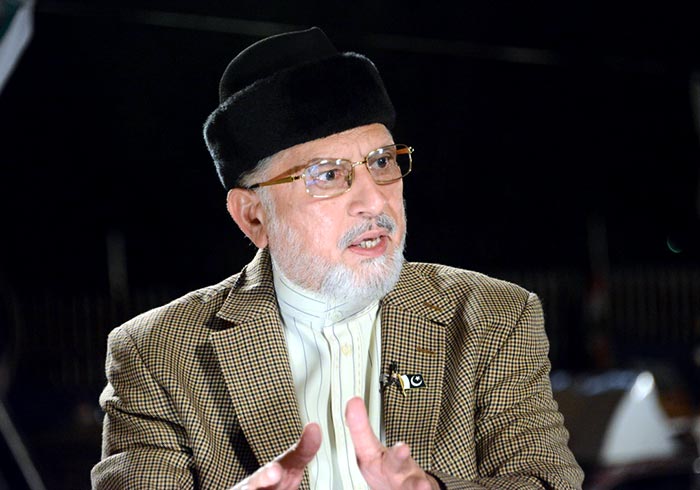 PAT Chairman Dr Muhammad Tahir-ul-Qadri has said that the Prime Minister has a different tone and tenor when it comes to responding to criticism of the political opponents and he is the softest and most patient when Pakistan's sovereignty is attacked. He likened the rulers to white elements, adding that they would get crushed under their own burden. He said that a number of cases seeking PM's disqualification and those of corruption are pending trial against the ruling family. He said that more crimes are part of their register than was the case in 2014. He said that the first phase of the Qisas movement will conclude on August 28 to be followed by the announcement of the second round.
Dr Tahir-ul-Qadri expressed these views while addressing the meeting here in Lahore, which was held to review the protest movement. He expressed his satisfaction on the active and robust participation of the PAT workers, other political parties and the civil society organizations in the first phase. He said that the blood of the martyrs of Model Town is a debt on the PAT workers and they would rest peacefully unless they pay back the debt. He said that the government has entered into the tough phase, stating those providing support and props to the corrupt mafia will have no future either. He said that whether it is the arrest of the RAW agent, the Quetta tragedy or atrocities in the Indian held Kashmir, the lips of the Prime Minister remain sealed. He said that 18-hour long operations are carried out to eliminate the political opponents.
The PAT Chairman said that the local leadership of the PTI is attending the protest rallies of his party, adding that PAT would also become part of the demonstration organized by PTI. He said that the PM sent the members of his family and ministers and even involved foreign governments to seek pardon in the Model Town case. He said that the day the PM refutes his assertion, he would reveal their names and identities. He said that the Qisas movement will continue till the Qisas is served in the Model Town case and the people are provided justice.