Sharif Brothers will be hanged one day: Dr Tahir-ul-Qadri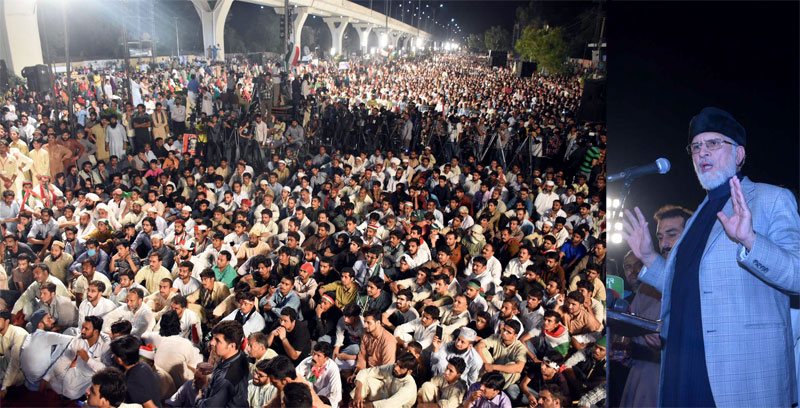 Addressing the Qisas and Solidarity March held under the banner of PAT in Rawalpindi on September 3, Dr Muhammad Tahir-ul-Qadri has said that his workers are his most precious treasure. He said that they are his pride and heartbeat. He said that their passion strengthens his resolve. He paid rich tributes to the mothers who brought them up. He said that he taught them peace, love and respect for all in addition to teaching them how to stand up to oppression and injustice. He said that he taught his workers how to live like Hazrat Ali (AS) and die as Hazrat Imam Hussain (AS), adding that it is the result of this training that they are fighting a relentless struggle against cruel and exploitative system. He said that the struggle of the workers has strengthened his resolve. He said that justice would not be provided in the kingdom of the Sharifs, rather one would have to snatch it. He asked the rulers to have a look at the raging sea of people in Rawalpindi. He said that if he asked his workers to head to Raiwind on such and such date, imagine what would happen. He said that there were two options i.e. Islamabad and Raiwind, adding the workers would vote in favour of either direction. But he got the consent of the workers to decide to which direction move.
Dr Tahir-ul-Qadri said that the Army Chief promised to provide justice in the Model Town case. He said that we are reminding him as to when he would fulfill his promise. He said that we are not begging the COAS for justice but only reminding him of his commitment. He said that elimination of terrorism is his responsibility. He said that we want Qisas under the law of the land, Constitution of Pakistan and the Islamic law and anything less than that is not acceptable. He said that he has waged a relentless struggle against terrorism and extremism, stating that our peacefulness makes us demand Qisas through law of the land.
The PAT Chairman asked Nawaz Sharif and Shahbaz Sharif to mark his words that we would not budge an inch from our stated goal of getting justice. He said that they have sent many people including his ministers and foreign powers but he did not compromise on the Model Town tragedy. He said that he is satisfied that he rejected the power of the Pharaoh of his times. He said that we cannot even think of betraying the blood of Model Town martyrs. He said that it is not just about the killings of Model Town but the solidarity of Pakistan is being harmed as well. He said that it is not just Kulbhushan Yadav who was the only RAW agent when he was arrested. There are 300 Indians who are working in the factories of the Sharif family.
Dr Tahir-ul-Qadri said that of the allies who speak openly against integrity and interests of Pakistan and the Pakistan Army on the floor of the National Assembly are on the payroll of the agency of a neighboring country. He said that according to an official letter of the Interior Ministry, a number of people who are on payroll of the foreign agency are present in various government departments. He said that all kind of venom was spewed against the state of Pakistan in Karachi a few days, asking as to who will take these anti-state elements to task. He said that if the national solidarity is not being safeguarded, how will a poor man be protected?
The PAT Chairman said that the electricity generated from power plants of the Sharifs will power the country because they will buy Wapda. They will generate power with the help of India and sell it to the people here. He asked as to who will confront and foil these conspiracies? He said that he could only do that much which he has done, adding that his prime goal is to save Pakistan only. He said that India has been busy saving the rule of Nawaz Sharif for last six months. He said that whenever his government faces a threat, firing starts across the Line of Control, and the Quetta and Mardan tragedies take place. He asked how come such tragedies occur only when their government is in danger.
Dr Qadri said that the Sharifs tried to foil the Operation Zarb-e-Azb but the Pakistan Army thwarted their effort. He said that if their rule did not end, they would compromise on the national security, buy all institutions and turn Pakistan Army into the Punjab police.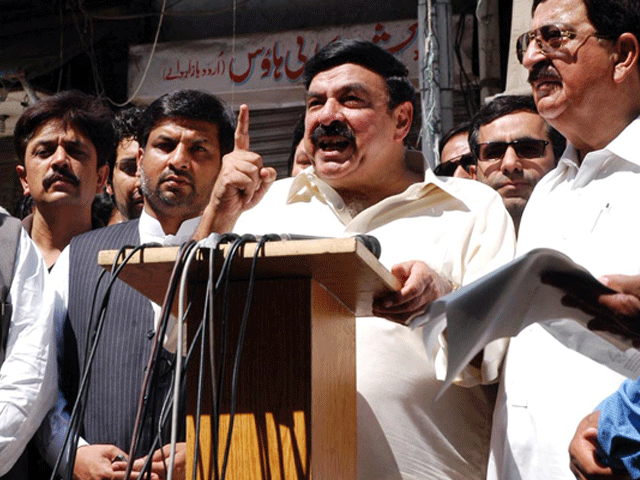 Addressing the Qisas March, Awami Muslim League President Sheikh Rashid said that he is not corrupt and a friend of Modi like Nawaz Sharif. He said that the Indian PM can be his weakness but not of Sheikh Rashid. He said that Mian sahib is not aware of the mentality of Modi, stating that he is not like past Indian PMs. His hands are bloodied with the blood of innocent Muslims. He said that Modi has no qualm when he says it publicly that it was India which made Bangladesh. He vowed to fight corruption and the corrupt government till the last blood. He said that if Gen Raheel Sharif can send the corrupt army officers home after accountability, why can he not help provide justice to the people in the Model Town tragedy?
Sahibzada Hamid Raza (Chairman of SIC), Sahibzada Abul Khair Dr Muhammad Zubair (President of JUP), Khurram Nawaz Gandapur (Sec. General of PAT), Brig. (r) Muhammad Mushtaq (President of PAT northern Punjab) and other leaders also addressed the Qisas March.