Army Chief's address worthy of highest consideration: Dr Tahir-ul-Qadri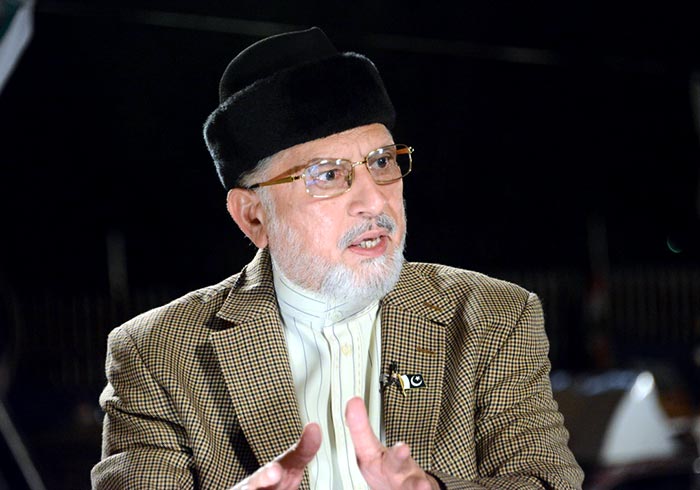 While commenting on the Army Chief's address on the occasion of the Defence Day of Pakistan, PAT leader Dr Muhammad Tahir-ul-Qadri has said that the COAS' keynote speech deserves a serious consideration by the nation. He said that if the nexus between grave crimes, terrorism and corruption did not break, the gains made under the Operation Zarb-e-Azb would not be able to last long. He said that threats to the country's security and peace continue to remain potent, adding that while the spectrum of the foreign threat is well-known, the real danger comes from the internal sources. He said that those patronizing crimes hold top positions.
Dr Tahir-ul-Qadri said that the NAP is not being allowed to be implemented according to its letter and spirit. He warned that if the Operation Zarb-e-Azb was discarded midway, the remaining terrorists would take no time to resurface and regroup. He said that terrorism would not end unless its roots are undercut for good. He said that those who have taken the Operation Zarb-e-Azb to its successful conclusion should think as to why the Rangers are not being allowed to start this operation in Punjab. He said that when terrorists fail to find some secure place, they come to Punjab and take refuge here.
The PAT Chairman said that the COAS' mention of misgivings being spread about intelligence agencies in his speech is a point of serious concern. He said that it is unfortunate that the government senators held the intelligence agencies responsible for the Quetta tragedy in their statement on September 5. He said that no government minister was present in the house at the time of important discussion regarding the Quetta tragedy. He said that constant attacks are being regularly launched on the security institutions by the allies of the government. He said that the NAP is not Sindh or Karachi specific, adding that if it is truly national in scope, operation should immediately be launched in Punjab under it.