Dr Tahir-ul-Qadri issues list of 50 Indians along with their visa numbers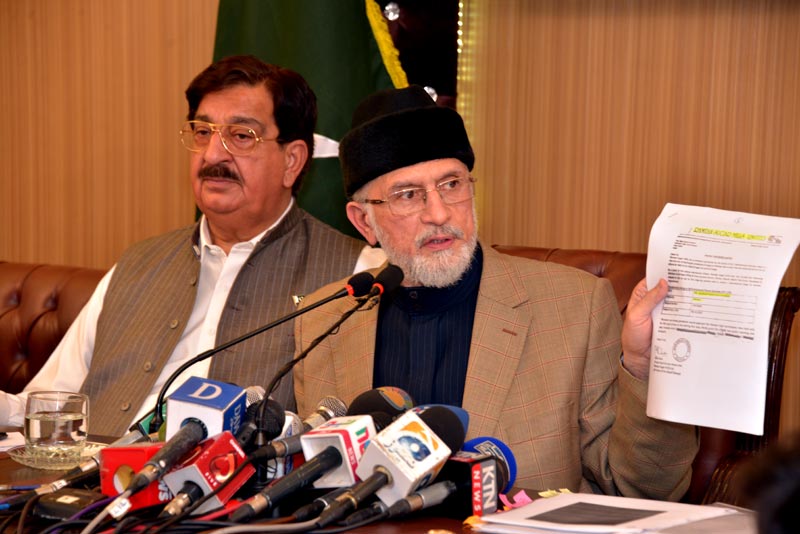 Addressing a heavily attended press conference here in Lahore today, PAT Chairman Dr Muhammad Tahir-ul-Qadri issued the list of 50 Indians out of 300 working in the mills of the Sharif family who came on the visa of engineers, technicians, and welders. He also shared the details of passport numbers along with the list. He revealed that more than 300 letters from Ramzan Sugar Mill were sent to Pakistan High Commissioner in India and he was directed to ensure exemption from reporting with the police and checking. He said that capital to the tune of Rs. 100 million flew from Pakistan to India by 2010, adding that after the Sharif government took over, Rs. 470 billion is being transferred to India on yearly basis.
Khurram Nawaz Gandapur, Basharat Jaspal, Shahzad Naqvi, and Sajid Bhatti were present on the occasion. Dr Tahir-ul-Qadri said that one of the Corps Commanders opined in the meeting of the Apex Committee held on November 26, 2015 that the Punjab police does not have the capacity of an operation against terrorists. He demanded that Rangers should be allowed to carry out operations in Punjab. He said that if 200-250 terrorists are arrested from Punjab, the cue of terrorism in Model Town will be easily traced to the government ministers and ruling family. He said that there is a tension on the border but the ruling families across the border enjoy pleasant relationship. He said that no one has the word 'spy' written on his forehead, adding that word 'spy' was not written on the forehead of kulbhushan. He said that issuance of the list of 50 Indians' names along with their passport numbers is the first episode, stating that if the rulers reject it, he would issue the second episode too.
The PAT Chairman asked, 'do the visa laws allow the Indian engineers, technicians, and IT experts? He further said if those coming from India are not spies, then why have been exempted from reporting with police and verification? He said that the revelations he made during his speech at the Qisas and Solidarity March in Rawalpindi on September 3 have not been officially refuted to this day. He said that silence is an admission of a crime. He said that record is burnt to ashes to erase all signs of culpability and proofs. He said that record of LDA plaza, metro bus and Nandipur power project has been burnt, adding that burning of record of Ramzan sugar mill is meaningful.
Dr Qadri said that there is enmity between two countries, but the ruling family is providing shelter to the Indians in their sugar mills. He said that the Sharif family calls the special Indian personnel on special visas, adding that these are multiple visas and stamped by suspending the prevalent laws. The security institutions are kept away from the process of clearance because all institutions are beholden to them. He said that the people have to decide whether they want country or the corrupt ruling family. He said that wherever terrorists, their facilitators or supporters are holed up whether in Waziristan, Karachi or Lahore, they should be eliminated forthwith.