Sharif brothers ordered us to stop Dr Tahir-ul-Qadri from coming to Pakistan: Khurram Nawaz Gandapur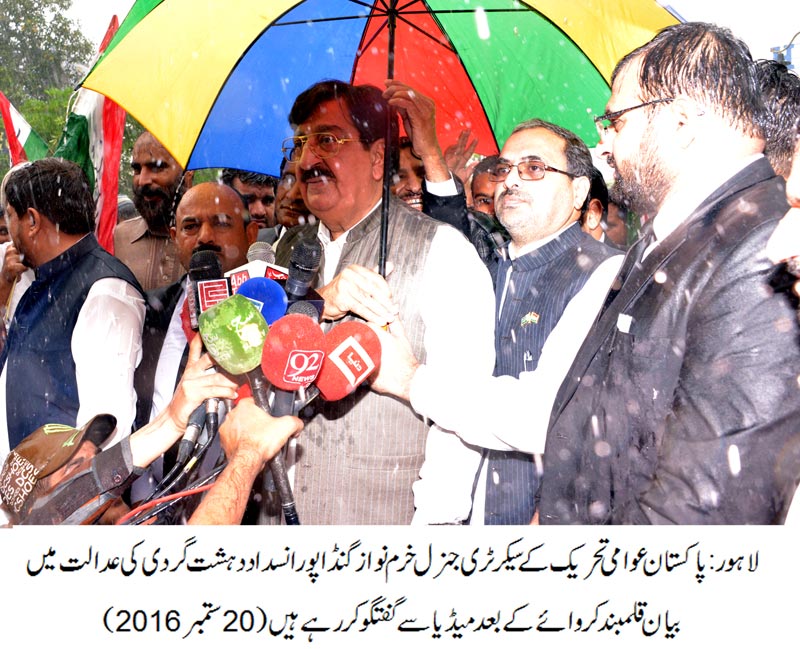 Recording his statement in the anti-terrorism court with regard to Model Town tragedy, PAT Secretary General Khurram Nawaz Gandapur said that Fayyaz Warraich, Syed Altaf Hussain Shah and he were taken to Chief Minister's House located in H Block of Model Town by a car on June 15, 2014 around evening about which they had already been informed. He said that before they reached Model Town, Prime Minister Nawaz Sharif, Shahbaz Sharif, Ch Nisar Ali Khan, Hamza Shahbaz, Khawaja Saad Rafique, Abid Sher Ali, Rana Sanaullah, and Khawaja Asif were already present. They asked us authoritatively to stop Dr Tahir-ul-Qadri from coming to Pakistan and launching a movement.
Khurram Nawaz Gandapur said that on our denial to do so, Nawaz Sharif and Shahbaz Sharif got extremely angry and said that we would crush this movement. Pervez Rashid said on the occasion that they (PAT) would not be straightened in this way, implying thereby that force was the only solution to make them give in. Then Nawaz and Shahbaz Sharif said that we have constituted a committee consisting of Ch Nisar, Khawaja Saad Rafique and Rana Sanaullah to monitor the movement which will deal with the whole situation.
The PAT Secretary General said in his statement that on the night of September 16 one day after their meeting, a heavy contingent of police encircled the secretariat and residence of Dr Tahir-ul-Qadri and committed extreme oppression. Police told us that they had come to remove illegal barriers on the orders of the PM, CM and Rana Sanaullah. The Police party was being commanded by DIG Rana Abdul Jabbar, SP Tariq Aziz and dozens of police officers whose details have been given in the private complaint. He said that we informed the police officers that these barriers were installed on the orders of the Lahore High Court and if they have a new order, they should show us and remove the barriers. He stated that the Police officers failed to show any such orders and started unilateral action in the form of tear-gassing, and baton charging and within minutes the whole area appeared as if it were the theatre of war. He said that as a result of merciless torture and direct firing on the people, PAT workers including two women were martyred and dozens were injured.
Khurram Nawaz Gandapur said that Dr Tahir-ul-Qadri wanted to use his democratic right of protest against the government's extra-constitutional steps, corruption, price hike, exploitation and unemployment and the police used force to stop the movement. He said that instead of accepting the responsibility of massacre and putting balm on the wounds of the people, it registered FIRs against the families of martyrs and resorted to highhanded action. It crossed the limits of decency when it launched relentless crackdown on workers and arrested them in thousands.
Khurram Nawaz Gandapur who had been declared proclaimed offender in Police FIR no. 510 got protective bail from the Lahore High Court in order to record his statement in the antiterrorism court.