Being Minhajian a matter of great honour: Dr Tahir-ul-Qadri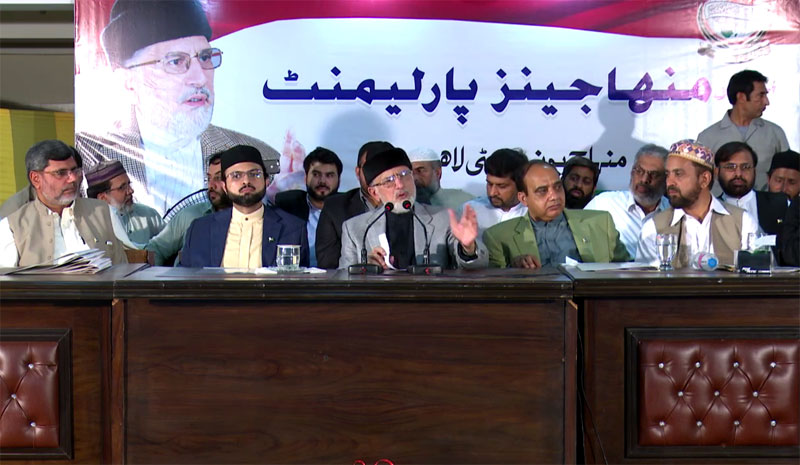 A meeting of Minhaj Parliament was held in the central secretariat in Model Town on August 14, 2016. Shaykh-ul-Islam Dr Muhammad Tahir-ul-Qadri presided over the session, whereas Dr Hassan Mohi-ud-Din Qadri was the guest of honour on the occasion. The meeting was attended by graduates of the Minhaj University from 1991 to 2016 sessions. The Parliament's meeting consisted of two sessions; in the first session, the participants deliberated on the working plan and approved it and Dr Tahir-ul-Qadri delivered his keynote speech to the second session.
Dr Abu Al-Hassan Al-Azhar, president of Minhajians, told the audience that around 1000 graduates of Minhaj University have completed their education in 24 sessions. He said that these Minhajians are playing their parts in different capacities in the world. He said that a large number of them are associated with the central secretariat in different roles. He further said that the institution of Minhajians is being restructured to strengthen their bond with their alma mater. He said that the office of the coordination council of Minhajian has been set up in the central secretariat on the instruction of Dr Hassan Mohi-ud-Din Qadri. He said that the coordination council of women graduates has also been established to create linkages with the female students. He said that responsibilities have been handed over to Umme Habiba in this regard who will be assisted by a four-member committee.
Shaykh-ul-Islam Dr Muhammad Tahir-ul-Qadri presided over the second session. He took oath from the newly elected body of Minhajian on the occasion. New organization body consists of Dr Abu Al-Hassan Al-Azhari, President, Muhammad Jawad Hamid, Naeem-ud-Din Chaudhry, Muhammad Abbas Naqashbandi, Dr Mumtaz-ul-Hassan Barvi, Mufti Irshad Hussain Saeedi, Shahzad Rasool Qadri, Muhammad Afzal Qadri, Ain-ul-Haq Baghdadi, Abdul Sattar Minhajian, Ghulam Murtaza Alvi, Muhammad Hussain Azad, Hafiz Ghulam Farid, Hafiz Niaz Ahmad, Kamran Saddique Noori, Muhammad Yamin Mustafavi, Sahibzada Iftikhar-ul-Hassan, Hafiz Safdar, Dr Shafqat Ali Baghdadi, Allama Ghulam Rabbani Taimor, and Hafiz Qaiser Munir.
In his brief chat, Dr Tahir-ul-Qadri congratulated the newly elected office bearers and directed them to work hard for promotion of core objectives of peace, love, tolerance and interfaith dialogue. He said that it is a matter of immense satisfaction that an institution he set up three decades ago has grown into a full-fledged university. He said that being Minhajian is a matter of great honour. He felicitated the Minhaj Coordination Council on successfully conducting the meeting of the Minhaj Parliament.