How will peace return to province in presence of accused rulers? Dr Tahir-ul-Qadri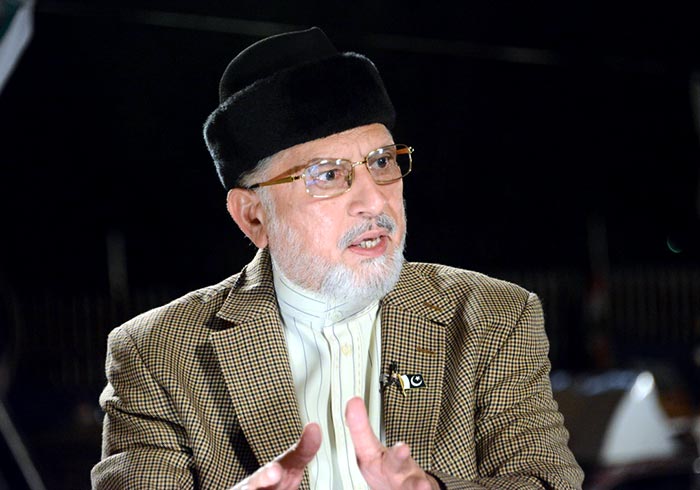 PAT Chairman Dr Muhammad Tahir-ul-Qadri has asked as to how peace will return to a province whose chief minister and law minister are involved in heinous crimes and nominated accused in Model Town case. He said that media has exposed the rulers and now the children of the poor families will be killed in fake police encounters. He said that the meetings held by the chief minister are meant to play to the gallery, adding that if his attention had been focused on securing life and property of the masses, the crimes would not have registered an increase of 76pc.
Dr Tahir-ul-Qadri stated this while addressing a meeting of the PAT team of lawyers held to discuss the progress on the Model Town case. He said that the very presence of the Inspector General Police Punjab, who is involved in the heinous crime such as the Model Town killing, is a joke with the people and law. He said that the provincial chief executive and law minister are involved in the Model Town case and as long as this mafia will remain in power, the killings would continue and the respectable families will continue to be looted by the robbers at traffic signals and police pickets. He said that horrible crimes such as robbery and dacoity cannot happen without political support and patronage.
Dr Qadri said that the rulers use police to kill their political opponents, muzzle their voices and get their lands and properties occupied illegally and the police is given freedom to indulge in loot and plunder in return. He said that had it not been the case, the province would not have been turned into a no-go area. He said that assembly is a graveyard of the living men and women, adding that otherwise any of the members would have asked the chief minister as to why the crime rate is increasing despite provision of Rs. 100 billion to the police department and why the heirs of citizens who were unjustly killed are not getting justice. He said that the government provides patronage to the criminals from the registration of FIR to investigation to prosecution and the justice system takes care of the rest of the things with the result that criminals are released within days and start their business all over.
Meanwhile, the PAT Chairman severely criticized PEMRA for issuance of notices of closure to Neo and Din TV channels. He said that PEMRA has lost all independence and working as a handmaiden of the government. He said that the Nawaz government is using PEMRA to protect its corruption so that it can muzzle the independent voice of media. He said that after rough treatment meted out to the opposition, and now the media is on the hit list.