PAT not a traditional political party: Dr Tahir-ul-Qadri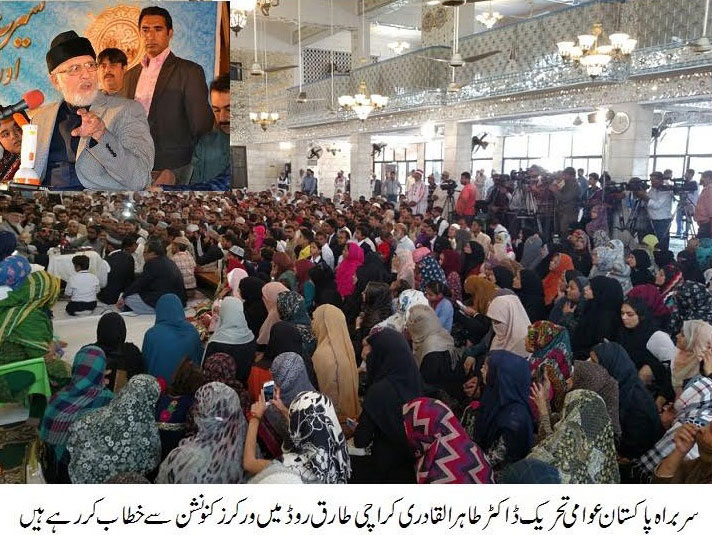 PAT Chairman Dr Muhammad Tahir-ul-Qadri has said that neither our movement nor our workers are traditional. He said that our struggle is premised on an ideology. He announced to hold the next public meeting in Bagh-e-Jinnah. He appointed three zonal presidents of the Sindh chapter of PAT by dividing the province into upper and lower Sindh and Karachi. The newly appointed presidents were given the task of completion their respective organizations.
Dr Tahir-ul-Qadri expressed these views while addressing a workers convention at Tariq Road, Karachi. The convention was attended by Dr Hassan Mohi-ud-Din Qadri, Khurram Nawaz Gandapur, Qazi Zahid Hussain, Safdar Qureshi, Rao Kamran Mahmood, Noorullah Siddiqui, Ilyas Mughal, Qaiser Iqbal Qadri, Liaqat Hussain Kazmi, Syed Zafar Iqbal, Athar Javed Siddiqui, Adnan Rauf Inqilabi, Naeem Ansari, Mushtaq Siddiqui, Rani Arshad, Fozia Junaid, Chaman Fatima, Faizan Kaleem, Irfan Yousuf, Faheem Khan, Shahid Malik and a large number of people.
Dr Tahir-ul-Qadri congratulated the PAT office bearers of Sindh on successful arrangement of peace conference in Karachi. He said that elimination of extremism, exploitation and corruption and promotion of peace is is his mission for which he is striving hard. He said that no other party has as exemplary workers as the PAT, adding that we would not rest till we get justice for the Model Town martyrs.
Paying rich tributes to the workers for their courage and resilience in the face of oppression and highhandedness by police, Dr Tahir-ul-Qadri said that the PAT workers have chronicled a new chapter of commitment with the ideology of peace and revolution. He said that no obstance could stop the workers from going ahead with their mission. He said that despite 14 workers being martyred, hundreds of thousands reached Islamabad to press for meaningful reforms in the country's system to make it pro-people. He said that revolution march was a watershed in the history of political struggle.
Dr Qadri said that there is a world of difference between the PAT workers and those of other parties. He said that our workers are personification of determination and commitment with ideology of revolution and no money on earth can buy their conscience. He said that disappointment is a word unknown to our workers, adding that they remain resolute more than ever before to achieve the destination of revolution.