Dr Tahir-ul-Qadri grieved over loss of precious lives in plane crash
I am hugely saddened to learn about loss of precious lives in a plane crash. My heart goes out to the bereaved families.

— Dr Tahir-ul-Qadri (@TahirulQadri) December 7, 2016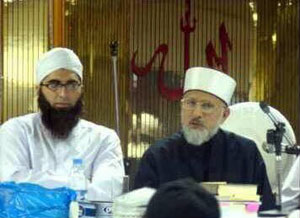 PAT Chairman Dr Muhammad Tahir-ul-Qadri has expressed his deep sense of grief and sorrow on the loss of precious lives in a heart-rending incident of a plane crash today. He said that words fail to express the depth of grief, adding that we stand by the bereaved families at this hour of enormous grief. He said that a number of incidents of plane crashes have taken place in Pakistan in a short span of time. He said that it needs to be investigated whether plane crashes are the result of technical faults or institutional incompetence is behind them.
Dr Tahir-ul-Qadri demanded that an immediate investigation be launched into the plane crash tragedy and its causes be made public. He said that it has often been seen that soon after such tragedies happen, announcements of investigations are made and commissions are announced but the people are not informed of the findings and results of such probes. He said that it explains why those responsible for such tragedies remain unpunished.
Dr Qadri said that a similar incident of crash belonging to a private airliner took place but the owner of the company, who is part of the government, used his influence to make sure that inquiry does not reach its logical conclusion. He said that insensitivity and shamelessness has increased to such an extent that nothing gets moved as the people continue to lose their lives.
Dr Tahir-ul-Qadri expressed his deep sense of grief on the passing away of religious preacher Junaid Jamshed and his wife in the incident. He prayed to Allah Almighty to rest the departed souls in peace and grant patience to the bereaved families.