Acid test of state institutions has begun: Dr Tahir-ul-Qadri talks to media at Lahore Airport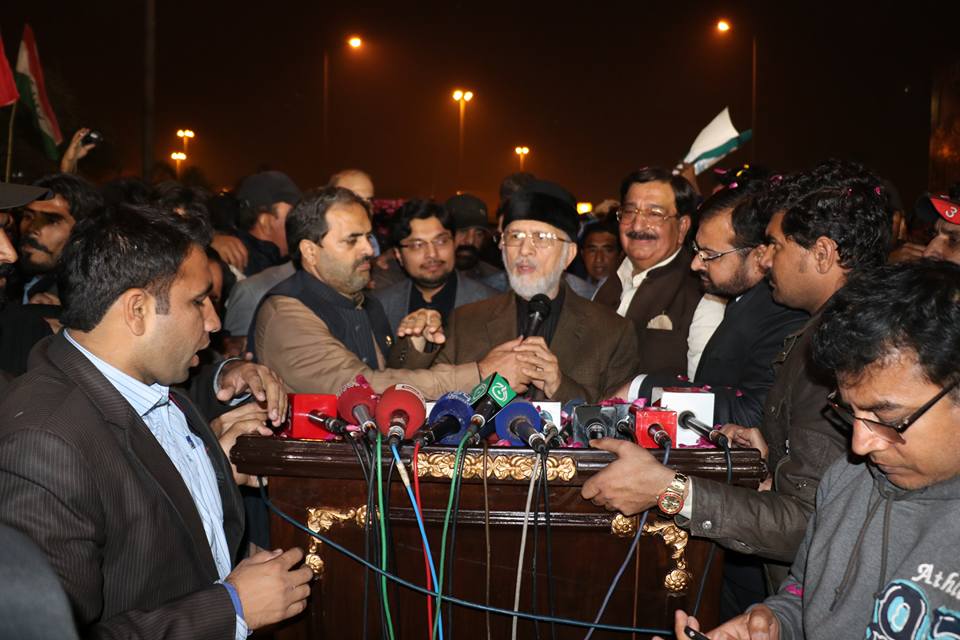 PAT Chairman Dr Muhammad Tahir-ul-Qadri has said that corruption did not remain hidden anymore, it has been exposed. He said that the letter presented by the government as a proof has made it clear that the rulers do not have any lawful source of income. He said that acid test of institutions has begun. He asked the state institutions such as NAB, FIR and FBR to play their national role at this juncture. He said that no rulers of any country have been as much exposed publicly as the Pakistani rulers but they remain unfazed. He said that these rulers have brought the country into disrepute.
Dr Tahir-ul-Qadri stated this while talking to media on his arrival at the Lahore airport. Dr Hassan Mohi-ud-Din Qadri, Khurram Nawaz Gandapur and other leaders were present on the occasion. He said that lies upon lies are being told to save billions of ill-gotten money and the way of the worst form of monarchy is being prepared. He said that he would announce the second and third rounds of Qisas movement at an appropriate time.
Dr Qadri said that what to speak of an off-shore company, the PAT does not have any in-sure company. He said that PEMRA has started journalistic terrorism at the behest of the government, adding that media freedom is being muzzled through highhandedness. He said that the people need to play active role for their rights. He said that the policy of whining while sitting idle at home would not be helpful. He said that no single leader can bring about change. The whole nation should come out for a peaceful and democratic change.
The PAT Chairman said that it were the workers of PAT who took to streets during revolution march whereas the people stayed at home. He said that his three-day stay in Karachi was very useful. He said that he had a wide-ranging interaction with a cross-section of society who informed him of the problems the city is confronted with. He said that he divided the Sindh province into three zones for organizational work. He said that by attending the peace conference at Nishtar park in large number, the workers rejected terrorism and fear. He said that next public meeting will be held in Jinnah Ground Karachi.