Panama leaks issue to get final burial in January: Dr Tahir-ul-Qadri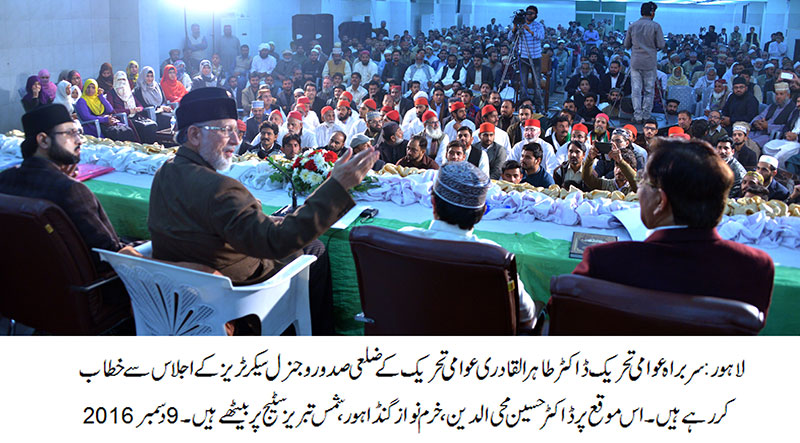 PAT Chairman Dr Muhammad Tahir-ul-Qadri, while addressing the convention of district presidents, secretary generals and office bearers of PAT Punjab chapters, has said that as long as fog of corruption is prevalent, law, constitution and democratic morality will continue to crash-land. He said that the institutions are weak, whereas the corrupt mafia is strong. He said that the Prime Minister, who has been getting daily updates on the Panama leaks for last seven months, should tell the nation as to how many briefings he took to review progress on the NAP and Cyril leak. He said that the rulers are busy in saving their ill-gotten money by leaving the people at the mercy of terrorism. He said that the democracy will get dented in the presence of the current rulers.
Dr Tahir-ul-Qadri said that one character of the Cyril leak fame who was side-lined has appeared again on the horizon, adding that the same drama was enacted in case of Model Town tragedy when the provincial law minister who was momentarily removed from his post to hoodwink public opinion was put back in his ministerial post a few months down the line. He said that there is a possibility that the Panama leaks issue will be buried in January and this will be the New Year's gift for the corruption kings and the world will understand his analysis.
The PAT Chairman said that whether it is corruption or national security affair, fixed matches were played. He said that as soon as the Nawaz government gets out of the pressure exerted by the Panama and Cyril leaks, the situation on the Line of Control will also come under control. He said that every PAT worker will continue his struggle to rid the country of clutches of the corrupt mafia, adding that nucleus of our struggle is demand for justice for the Model Town martyrs.
Dr Tahir-ul-Qadri announced Gold Medal for PAT Secretary General Khurram Nawaz Gandapur to acknowledge his struggle for the party. In addition to this, gold medals were announced for Sardar Shakir Mazari, Ahmad Nawaz Anjum, Rafique Najam and Rana Idrees for rendering excellent services for the organization. He appreciated Tanvir Khan for his excellent work as Secretary Coordination.
The convention was attended by the office bearers from Lahore, Bahawalpur, DG Khan, Gujranwala, Faisalabad, Rawalpindi, Multan, and Sahiwal Divisions.