Women in forefront of struggle for democratic change: Dr Tahir-ul-Qadri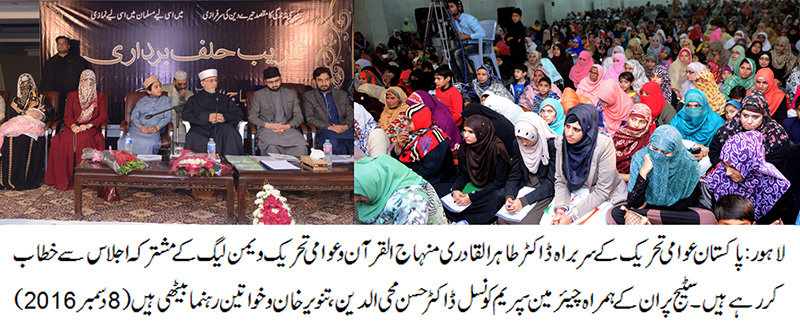 Addressing the oath-taking ceremony of the Minhaj Women League at the central secretariat, PAT Chairman Dr Muhammad Tahir-ul-Qadri has said that the Panama leaks issue will die its own death. He said that if the proposal for establishment of the commission was accepted, it would be nothing less than a political suicide. He said that a suicidal death is forbidden and its funeral prayers are not held. He said that the issue would be buried without its funeral in case the commission is established. He said that the Prime Minister will be taken out of the case while it will continue to revolve around the doings of children inconclusively.
The oath-taking ceremony was attended by Dr Hassan Mohi-ud-Din Qadri, Tanvir Khan, Farah Naz, Afnan Babar, Ayesha Mubashir, Umme Kalsoom Qamar, Zaynab Arshad, Kalsoom Tufail, Iqra Yousuf Jami, Amna Batool, Fahneeqa Nadeem and Naeemia Basit.
Dr Tahir-ul-Qadri said that counsel of Prime Minister is confessing many more economic crimes through his arguments. He said that the argument put forward by his lawyer that the Prime Minister's policy statement at the floor of Parliament is political is open to varied interpretation. He asked if the Prime Minister wants to say that his statement should not be taken seriously.
Dr Qadri said that in case of clean-chit in the Panama leaks issue, no party or individual will be able to raise voice against corruption of the rulers and whosoever made such an effort will be meted out the same treatment which was meted out to the PAT workers in Model Town.
Meanwhile, addressing the oath-taking ceremony, Dr Tahir-ul-Qadri said tha he is convinced that whenever change comes, the women will be at the forefront of such a struggle. He said that women have been given the place to sit in Parliament but no power. He said that in the local bodies system designed by the Sharif brothers, the quota of women has been reduced from 33pc. He said that the present rulers believe in concentration of power and resources. They are not ready to share power with anyone. More so the case when someone is competent and honest despite the fact that he belongs to their own party.
The PAT Chairman said that only men were found to be involved in the corruption cases that have surfaced to date, adding that no woman enjoying any government office was not involved. He said that he is sure of the fact that women of Pakistan are more responsible, talented and honest than men. He said that the hard-working women of Pakistan are role model for their counterparts in the world. He said that they are incarnation of sacrifice from birth to death. He said that political struggle waged by the daughters of Pakistan during the sit-in of 2014 and the sacrifices they rendered will continue to be remembered. He said that the women of PAT and MQI bravely faced the brutality of the Sharifs' police. He said that live bullets were fired at them but still the rulers could not break their resolve.
Tributes were paid to Shaheed Tanzila and Shazia for their heroic sacrifices. Dr Qadri said that he is proud of courage and perseverance of his daughters.
The meeting also expressed its deep sense of grief and sorrow on the plane crash in Havelian and prayed to Allah Almighty to rest the departed souls in peace. A special Dua was made for late Junaid Jamshed and his wife.