Education aimed at service to humanity our motto: Dr Tahir-ul-Qadri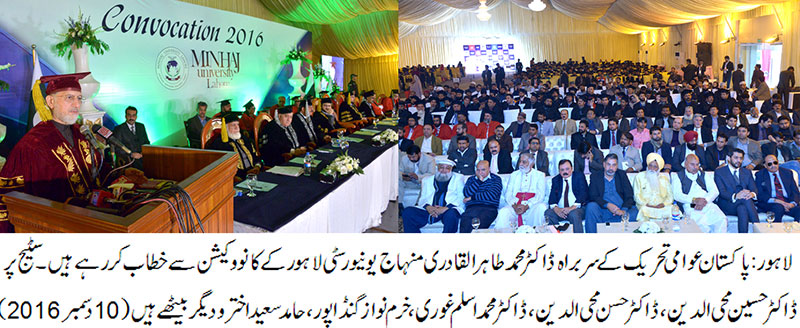 Addressing the Convocation 2016 of The Minhaj University Lahore (MUL) in a local hotel in Lahore today, Dr Muhammad Tahir-ul-Qadri, Chairman Board of Governors, has said that ignorance is far worse than lack of education. He said that inability to be aware of facts represents lack of knowledge and access to a fact with conviction is knowledge. He asked the youth to engage themselves in pursuit of productive knowledge. He said that the MQI is busy in promoting awareness and knowledge in the world and its scholarly role is being appreciated globally, adding that it is a matter of great pride and honour for the students as well as the people of Pakistan.
Vice Chairman Board of Governor MUL Dr Hussain Mohi-ud-Din Qadri, Chairman Supreme Council of MQI Dr Hassan Mohi-ud-Din Qadri, Vice Chancellor MUL Dr Aslam Ghouri, Nazim-e-Aala Khurram Nawaz Gandapur, Registrar FC University Hamid Saeed Akhtar, Prof Dr Rana Younis, Col. (r ) Muhammad Ahmad, Dr Jamal Abbasi, Dr CM Muhammad Hanif, and Ahmad Mustafa Al-Arabi addressed the Convocation. Dr Aslam Ghouri presented the welcome address in which he welcomed the guests as well as the students.
The PAT Chairman gave away gold medals to male and female students namely Ayesha Mushtaq, Hafiza Amna Masood, Shabana Rafique, Asif Mahmood, Javeria Qazi, Maria Sarwar, Ameena Khan, Hafiz Saeed, Mubashar Hussain, Mustanyar Hussain Waseem, Mohammad Zohair, Shugafta Khursheed, Mubashra Janjua, Muhammad Shahzad, Asif Saleem, Zarghona Basheer, Sadaf Lal, Waqas Muneer, Nayla Akhtar, Ayesha Waheed, Mumtaz Hussain, Unaiza Jameel, Saadia Batool, Faiza Mateen, Noor-ul-Ain, Shamim Akhtar, Hafiz Farhat, Muhammad Sarwar, Hafiz Muhammad Khursheed and Ahmad Qadri in acknowledgment of their meritorious educational achievements. He congratulated the students on getting gold medals in PhD, M. Phil and Master programmes.
Dr Tahir-ul-Qadri asked the students to get education for the sake of service to humanity, not just office or job. He asked them to be instrumental in removing the darkness of ignorance by igniting the lamps of knowledge. He said that the sign of productive knowledge is that it enables the learner to get rid of narrow-mindedness, hatred and biases. He said that learning of true knowledge enlightens one's heart, expands the horizon of the seeker and makes him develop love for the humanity.
Dr Qadri said that if one becomes more narrow-minded in one's opinions and hatred replaces love, then one must understand automatically that it is something else, not productive knowledge. He expressed his best wishes and prayers for the graduating students and hoped that they would leave no stone unturned in setting up new benchmarks of public service with honesty of purpose.
Addressing the ceremony, Dr Hussain Mohi-ud-Din Qadri said that it is the distinction of MUL that cost-effective but quality education is imparted to the students here. He said that the graduates of MUL are making their contributions to the socio-economic development of society. He hoped that the graduating students will also bring laurels to their families and the motherland.