All set for 33rd International Mawlid-un-Nabi Conference tonight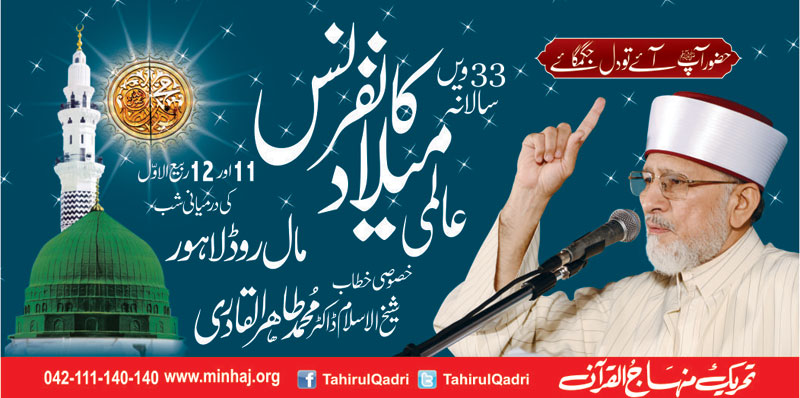 All is set for the 33rd edition of the International Mawlid-un-Nabi Conference, which will be held during the intervening night of the 11th and 12th of Rabi-ul-Awwal. The venue for this year's event is The Mall Lahore. The preparations for the Conference have been completed. The stage has been made and separate seating arrangements for men and women have been finalized. Milad feast will be open for all and sundry from 7 pm to 9 pm like the previous years.
The venue of the conference starts from the Chairing Cross in front of the Punjab Assembly and concludes at the Nasir Bagh Lahore. The chief highlight of the conference is the keynote address of Shaykh-ul-Islam Dr Muhammad Tahir-ul-Qadri which will be broadcast live around the world through web TV as well as national TV networks. Mashaykh, religious scholars, prominent personalities belonging to various walks of life will attend the conference in addition to hundreds of thousands of the faithful who will travel from various parts of the country to reach Lahore for the mega event of MQI. Renowned Qaris and Naat khawans will also have the honour of recitation of the Holy Quran and Naat respectively. The traders of The Mall will host the international Mawlid-un-Nabi Conference.
Jawad Hamid, secretary of the central Milad committee, stated this while addressing a meeting held here at the central secretariat at the Model Town. Irfan Yousuf, Saeed Akhtar, Hafiz Ghulam Farid, Mian Zahid Javed, Shahzad Rasool, Haji Ishaq, Raja Nadeem, Ch Afzal Gujjar, Imtiaz Awan, Ch Riaz and others were also present on the occasion.
Jawad Hamid told the meeting that in view of the poor law and order situation prevailing in the country, youths belonging to PAT, MYL and MSM will perform the security duties inside and around the venue. The huge screens will be installed inside and outside of the venue so that people can watch the proceedings at the stage uninterruptedly. He said that the millions of the people will be part of the conference indirectly through their TV sets. He said that citizens of Lahore alone will throng The Mall. He further said that welcome camps will be set up at various points in the Lahore city to guide the incoming caravans.