Nawab Shahzain Bugti calls for justice in Model town case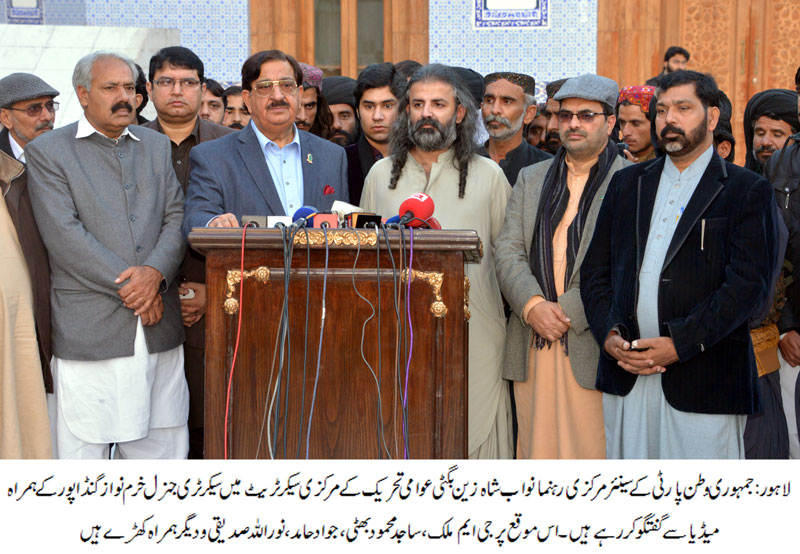 Nawab Shahzain Bugti, central leader of Jahmhoori Watan Party of Balochistan, visited the central secretariat of PAT along with office bearers of his party. He held a meeting with the PAT leaders on matters of mutual interest.
Speaking to media after the meeting, Nawab Shahzain Bugti said that brutality was committed in Model Town. He demanded that those responsible for the tragedy should be apprehended and punished for their crimes. He said that when those meant to protect start killing their own people, how will one be able to answer the questions raised by the outside world? He said that he was greatly pained to see the video clips of what was done in Model Town, adding that the responsibility to dispense justice lies with the judiciary.
Upon arrival, Nawaz Shahzain Bugti and the members of his delegation were received by PAT Secretary General Khurram Nawaz Gandapur, GM Malik, Jawad Hamid, Sajid Bhatti, Shahzad Rasool and other leaders. The Baloch leader also offered Fateah for the martyrs of Model Town.
Talking on the occasion, Khurram Nawaz Gandapur said that whether it is Balochistan or any other province, there should be no oppression. He said that we are hopeful of getting justice from the courts. He said that when justice is not delivered, people are forced to take law in their hands. He said that criterion to differentiate between a successful and unsuccessful state is its ability to dispense justice or vice versa.
PAT Secretary General said that all those police officers who were supervising the operation in Model Town have been made to disappear. He said that the judge of the antiterrorism court asked the government's lawyers about DIG Rana Abdul Jabbar but they were clueless. He said that this reply of the official lawyers betrays what the government wants. He said when even the court of law will not be provided knowledge of the whereabouts of the nominated accused, what authority is left that can bring them to the dock? He welcomed Shahzain Bugti and the office bearers of his party on coming to central secretariat of PAT.