Proactive struggle by people a must for rights: Dr Hussain Mohi-ud-Din Qadri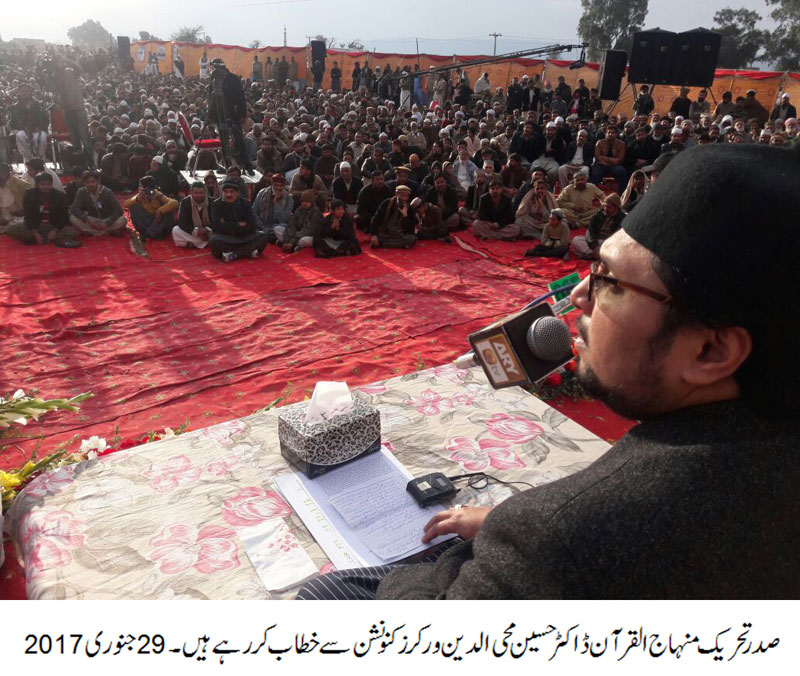 Dr Hussain Mohi-ud-Din Qadri, President of MQI International, has said that societies ensure their existence by upholding justice and rule of law. He said that without justice, neither can peace be established nor any society progress.
Dr Hussain Mohi-ud-Din Qadri made these remarks while addressing the Workers Convention in Rawalpindi yesterday. Naeem Khayani, Agha Mahmood-ul-Hassan, Ibrar Raza Advocate, and Anaar Khan Advocate also spoke on the occasion.
Dr Hussain said that MQI is a movement engaged in a mission of spreading peace and love, adding that over the last three decades, this organization has played its part befittingly to project peaceful, moderate and progressive image of Islam. He said that the youths associated with MQI have played appreciable role for promotion of peace and harmony in the society.
The President of MQI said that the day when the MQI workers were mercilessly killed in broad day light was the worst of the days of national history. He said that things have not stopped at that, adding that the families of martyrs have been kept deprived of justice to this day despite passage of two years. He said that 190 million people continue to remain deprived of their rights as the ruling elite has played the role of a predator by usurping resources and powers to the detriment of the masses.
Dr Hussain Mohi-ud-Din Qadri said that our 35 year old struggle is based on peace, adding that the worst state oppression was committed on innocent PAT workers on June 17, 2014 in which 14 people were killed and about 100 of them were injured with firing of the police but we did not let go of peace and obedience to law of the land.
He said that our struggle is against the exploitative system designed by the feudal lords, industrialists, big business and corrupt mafia that serves their interests. He said that the people need to be proactive in demanding their rights because they will continue to have a raw deal if they do not demand it themselves through a constant struggle.