Evidence in Model Town case stronger than was in Zulfiqar Ali Bhutto case: PAT lawyer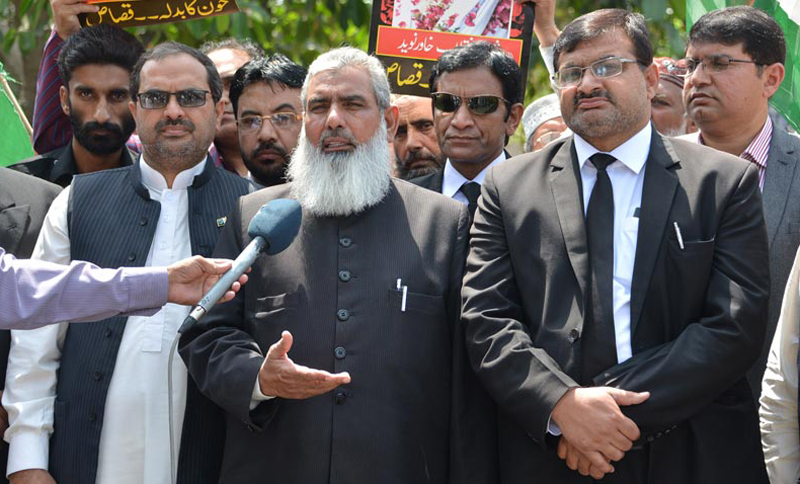 Giving arguments in the matter of private complaint in the antiterrorism court, PAT lawyer, Rai Bashir Advocate, said that the evidence on the basis of which former Prime Minister Zulifqar Ali Bhutto was hanged is present in the Model Town case. He said that some of the evidences and proofs are stronger than those presented in the case of Zulfiqar Ali Bhutto.
Jawad Hamid, Naeem-ud-Din Chaudhry Advocate, Ishtiaq Ch Advocate, Asif Sulahriya, MH Shaheen Advocate, Sardar Ghazanfar Advocate, Nasir Iqbal Advocate, Rafaqat Ali Kahlo Advocate, Mahboob Ch Advocate, and Yasir Malik Advocate were also present in the court on this occasion.
Talking to media after the court hearing, Rai Bashir Advocate said that in case of Zulifqar Ali Bhutto, it is said that his name was included later on. He however added in the same breath that Dr Tahir-ul-Qadri had publicly placed his apprehensions on record through a public FIR when he said that if anything happened to him, his family or party workers, the Sharif brothers and other people will be responsible for it. He said that we have submitted to the court the proofs of all planning undertaken before the Model Town tragedy.
Rai Bashir Advocate said that Model Town tragedy is not an accident but a carefully thought out plan. He said that the Sharif brothers wanted to stop PAT leader Dr Tahir-ul-Qadri and his workers from exercising their democratic right of protest. They feared that if Dr Qadri was able to organize a protest against unconstitutional and undemocratic steps of the government, it could change into a broad-based countrywide political movement that could endanger their political and business interests. He said that the rulers ordered the police to attack the Model Town secretariat and residence of Dr Qadri and shed blood of innocent people.
Rai Bashir Advocate said that an IG from Balochistan was brought to Punjab overnight in order to execute the plan, adding that no one has thrown light on the sudden change of police command to this day. He said that close and right hand ministers of the rulers started threatening Dr Tahir-ul-Qadri of dire consequences before June 15, 2014 in case he chose to come to Pakistan. He said that a special meeting was held between the Prime Minister and Punjab Chief Minister at Jati Umra on June 15 whose sole agenda was to think of ways to stop the arrival of Dr Qadri.
The top PAT lawyer further stated that it was the same day when Khurram Nawaz Gandapur and other leaders were called in Model Town and ordered to stop Dr Tahir-ul-Qadri from coming to Pakistan and in case of their failure to do so, they were threatened of heavy consequences. He said that provincial Law Minister Rana Sanaullah presided over a meeting in the Chief Minister's Secretariat on June 16, 2014 whose agenda was to discuss the removal of barriers on June 17.
He said that all these steps and actions prove that Model Town carnage was not an accident but a well thought out plan whose motivation was purely political. He said that under section 109 and 111, Sharif brothers and other ministers are responsible for taking innocent lives and they need to be handed down strict punishment for this.