Nation unaware about status of NAP & Operation Zarb-e-Azb: Dr Tahir-ul-Qadri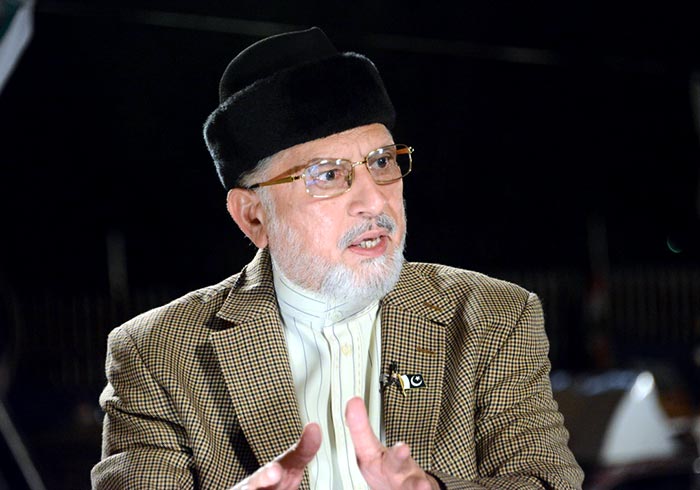 PAT Chairman Dr Muhammad Tahir-ul-Qadri has said that the nation continues to remain unaware of the status of the National Action Plan and the Operation Zarb-e-Azb. He asked those who ordered the closure of the military courts as to what alternate arrangements they put in place against terrorism. He further asked as to who is the hurdle in the way of operation against the sleepers' cell in Punjab? He said that he had already expressed his apprehension that the war against terrorism will be reversed. He said that Qazi Faez Isa report and closure of the military courts are proof of the fact that those responsible for failure of the war on terrorism are sitting in the corridors of power, not in Bazars and markets.
Dr Tahir-ul-Qadri made these remarks while talking to senior leaders of PAT yesterday on telephone. He said that all incidents of terrorism do not just happen on The Mall in Lahore, adding that all big markets, Mosques, parks, training centres have become the target of terrorists. He said that terrorism would not end with the ban on the gatherings on The Mall but with change of the rulers' mindset. He said that the report of Justice Qazi Faez Isa is enough to open the eyes of the nation and the rulers. He said that as long as exploitative system and its products remain ascendant, terrorism would not end from the country.
The PAT Chairman termed the suicide blast on The Mall as an unpardonable crime against humanity and said that we share the grief of the bereaved families who lost their near and dear ones. He asked for how long will the nation continue to get dead bodies and for how long will the rulers will continue to play with national security of the country? He said that if the operations can be carried out in Quetta, Fata, Peshawar and Karachi, why cannot the same be carried out in Lahore?
Dr Qadri deplored the fact that declarations were made to end nexus between terrorism and corruption but nothing concrete was done to sever the relationship. He said that the NAP was never implemented in letter and spirit and said that there is no one to ask the rulers about it. He said that the ministers of the Punjab government have the gall to say that they did impress upon the owners of the medical stores not to protest in view of the threat alerts but the question arises as to why did they not take the representatives of the pharmacists into confidence while deliberating upon the proposed legislation? He asked the nation to know it full well that those responsible for Model Town massacre cannot control terrorism.