PAT demands Rangers'-led operation in Punjab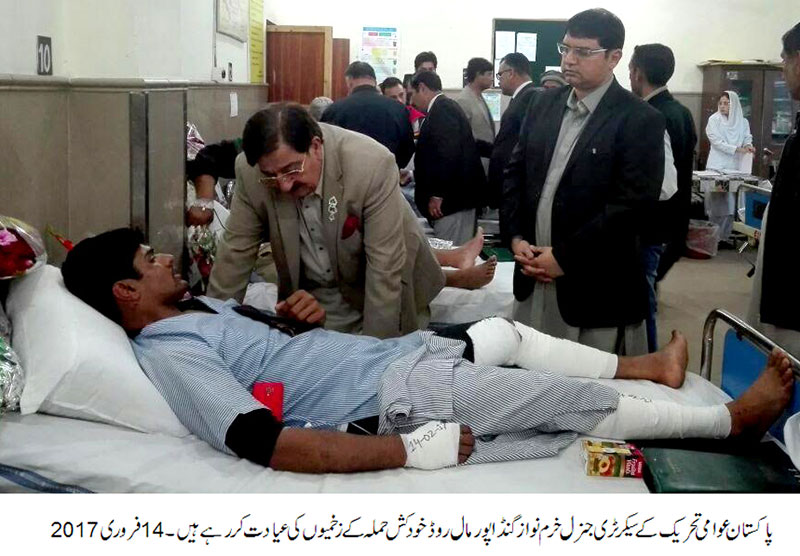 Talking to the media after inquiring after the injured of the Lahore blast in the Ganga Ram Hospital, PAT Secretary General Khurram Nawaz Gandpaur has said that we are grieved over the loss of precious lives in Lahore. He said that Punjab has been continuous target of the terrorists and Rangers-led operation should immediately be started in the province. He said that the provincial government and its subordinate institutions have failed to protect the lives and properties of the people. He said that we are in a state of grief that the police officers and jawans also fell prey to terrorism in Lahore.
Khurram Nawaz Gandapur said that unless terrorists and their facilitators are wiped out from Punjab, sustainable peace cannot be established. He said that people are forced to take to streets when they do not get justice from the authorities. He said that the contention that had pharmacists not gathered on The Mall, this incident of terrorism would not have taken place is not correct. He said that had the government been serious, it would have got the stakeholders on board before unilaterally passing the law.
The PAT Secretary General inquired after the injured of the Lahore blast in the Ganga Ram hospital and wished them early recovery on behalf of Dr Muhammad Tahir-ul-Qadri. Noorullah Siddiqui and Abdul Hafeez Ch were also present on the occasion.