If APS could not stir us into action, no tragedy ever will: Dr Tahir-ul-Qadri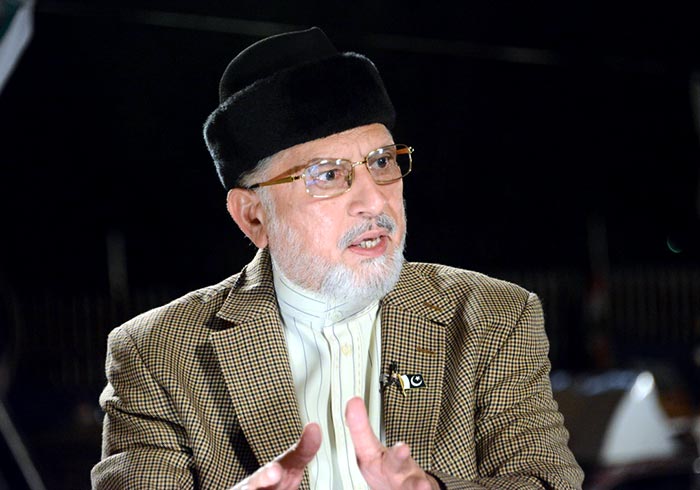 PAT Chairman Dr Muhammad Tahir-ul-Qadri has said that he had already forewarned that if the NAP was not implemented in letter and spirit and the importance of counter-narrative was not understood, terrorism would return. He said that the Sindh government was also opposed to the army operation in Karachi but the same was carried out despite this opposition, asking as to why this spirit is not present in case of operation in Punjab. He said that Justice Qazi Faez Isa report is enough to open the eyes. He asked as to who will ask the rulers hard questions about their acts of commissions and omissions?
Dr Qadri expressed these views while talking to office bears of Minhaj Ulama Council yesterday. He said that if the APS tragedy could not stir the conscience of the rulers, no tragedy ever will. He said that an army-led operation is just one aspect of the challenge of terrorism, adding that curing the infection of terrorism in the body politic is the real challenge. He said that this infection will be cured only when sources of foreign funding are bridged, facilitators and abettors of terrorists are apprehended and the NAP is implemented in both letter and spirit.
Dr Tahir-ul-Qadri said that for sustainable peace in Fata, Peshawar, Karachi and Gilgit Baltistian, the operation in Punjab is inevitable. He said that he produced a comprehensive 600-page document to eliminate the origin and source of terrorism six years ago which the foreign governments benefitted from but the government of Pakistan ignored it altogether, which has resulted in massive losses across width and breadth of the country. He said that present rulers will never be serious about complete elimination of terrorism.
Dr Qadri said that the terrorists have injured the bodies but the acts of omissions and commissions of rulers have hurt the souls. He said that the PAT and MQI will continue to wage their intellectual struggle against terrorism, extremism and radicalism. He said that suicide bombings have been carried out on different renowned shrines of Sufi-saints across the country, adding that had the abettors and facilitators in these terrorist incidents been made an example of, other shrines and public places would have remained safe from more attack of terrorists.