National Conference asks Prime Minister to step down post-Panama leaks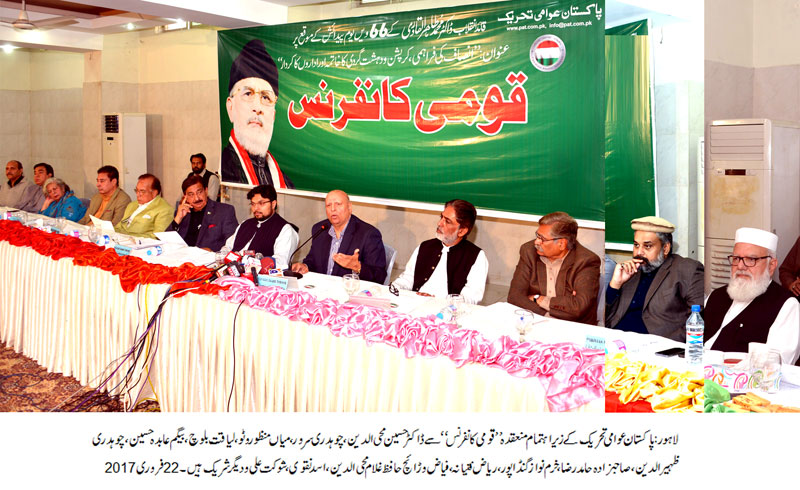 Pakistan Awami Tehreek arranged a national conference on the occasion of the 66th birthday of its Chairman Dr Muhammad Tahir-ul-Qadri. The participating leaders adopted a resolution on this occasion and demanded that the Prime Minister who failed to provide money trail for his offshore properties in London should immediately separate himself from the public office.
The resolution demanded that by refusing to take action against the ruling family, NAB, FBR and FIA have taken the law in their hands, therefore, its heads should be held answerable for the gross violation of the law. It further demanded that the Rangers' Operation should be province-wide and result-oriented and should continue till the last of the terrorists and facilitators is nabbed. The release of the Model Town Commission and New Leak reports were also demanded. The participants strongly condemned terrorist incidents in Charsadda, Sehwan Sharif and Lahore. Dua was made for the departed souls and speedy recovery to the injured.
Dr Hussain Mohi-ud-Din Qadri, senior leader of PAT and President of MQI, presided over the national conference. Those who spoke on the occasion included PPP leader Mian Manzoor Wattoo, PTI senior leader Ch. Muhammad Sarwar, JI leader Liaqat Baloch, senior politician Begum Abida Hussain, PML-Q Punjab General Secretary Ch. Zaheer-ud-Din Khan, Sunni Ittehad Council Chairman Sahibzada Hamid Raza, Riaz Fatyana, Hafiz Ghulam Mohyuddin, senior journalist Qayyum Nizami, MWM leader Asad Naqvi, APML leader Fatima Atif Mallahi, and Shaukat Qadri. PAT Secretary General Khurram Nawaz Gandapur and PAT Coordination Secretary Sajid Mahmood Bhatti conducted the proceedings of the conference.
Addressing the national conference, PAT leader Dr Hussain Mohi-ud-Din Qadri said that corruption has eaten into the vitals of every institution. He said that the government has failed on every front. He said that our foreign policy is such that three out of four neighboring countries are annoyed with us. He said that we have not got justice for the oppression unleased on the PAT workers in Model Town despite passage of 28 months. He said that it was because of injustice that Pakistan was broken with establishment of Bangladesh. He said that a river of blood and fire is being crossed to prove incidence of corruption in the Panamagate that already stands proved. He thanked the leaders of all political parties on behalf of Dr Tahir-ul-Qadri for attending the national conference.
PPP leader Mian Maznoor Ahmad Wattoo said that the institutions have become handmaiden of the rulers. He said that the end of Mian brothers' rule in Punjab is in the national interest. He said that barbarism in Model Town was committed under the very nose of the Punjab Chief Minister. He said that one of the judges that handed down capital punishment to Zulfikar Ali Bhutto dubbed it as judicial murder later. He said that doctrine of necessity has buried our morality.
PTI leader Ch. Muhammad Sarwar said that the decision to carry out anti-terror operation in Punjab should have been taken a long time ago. He said that institutions have become politicized and it is for this reason that lawlessness and corruption have penetrated the body politic. He said that Dr Tahir-ul-Qadri played a key role in safeguarding Islam and Pakistan from the allegations of terrorism and militancy.
Senior politician Begum Abida Hussain said that Prime Minister could not satisfactorily address questions on the Panama leaks and the money trail proving the legal purchase of offshore properties to this day. She said that the available evidence on record tells it all that not only was money laundering carried out but taxes were also evaded. She said that the apex court is up against a major test and expressed the hope that the SC would rise to the occasion.
JI leader Liaqat Baloch urged the whole nation to fight a relentless war for elimination of terrorism and corruption. He said that terrorism and Pakistan cannot go together. He said that we are of the considered opinion that whosoever has looted the national exchequer should be held accountable.
PML-Q leader Ch. Zaheer-ud-Din Khan said that Pakistan was created so that people could have the security of life, honour and property, adding that religious freedom was already there before partition. He said that it is high time that the masses thought for how long they will continue to be harmed by the same elite. He said that it is unfortunate that the MQI has not got justice. He said that as long as this system stays in vogue, the weaker sections of society will not be able to get justice till then. He said that the world has stopped extending invites to our prime minister after emergence of the Panama leaks.
Senior columnist Qayyum Nizami said that he was pleased that the PAT organized a national conference on the issue of terrorism. He said that people's rights are being violated with abandon. He said that youth will have to play its role in rebuilding Pakistan. He said that for terrorism to end, police will have to be de-politicized.
Raiaz Fatyana said that a major political alliance is necessary to end nexus between corruption and terrorism. He said that the rulers are benefitting from division in the ranks of opposition.
A birthday cake was cut at the conclusion of the conference and Dua was made for good health and long life of Dr Tahir-ul-Qadri.