Dr Tahir-ul-Qadri is a great blessing: Religious scholars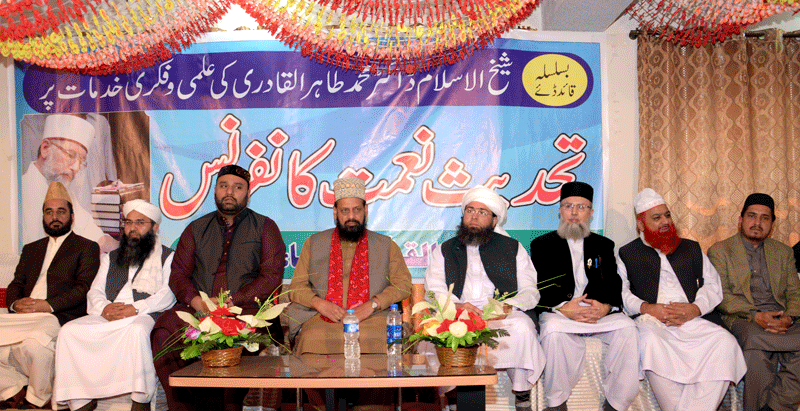 Allama Mufti Javed Noori, President of Jamiat Ulema-e-Islam Noorani, addressed 'Tahdith-e-Ne`mat Conference" held under the banner of Minhaj-ul-Quran Ualma Council and said that ideology of Dr Tahir-ul-Qadri have exposed the miscreant, hypocritical and flawed mindset. He said that Dr Qadri has adequately fulfilled his responsibility of advocating the causes of the Muslim world. He said that MQI has played a leading role in propagating the Islamic message of peace, interfaith harmony and love in the world, adding that the movement has worked really hard to spread the true Islamic teachings.
Allama Masood Mujahid, Allama Khalil Hanfi, Pir Ashiqullah Saifi, Allama Usman Sialvi, Allama Ghulam Asghar Siddiqui, Allama Rafique Randhawa, Pir Akhtar Rasool Qadri and leading Mashaykh and religious scholars attended the Conference. The Ulama and Mashaykh paid rich tributes to Dr Qadri over his scholarly, creative and intellectual services and said that Dr Tahir-ul-Qadri is a knowledge loving person and he imparted the lesson of love, peace, interfaith and inter-sect harmony, tolerance and moderation.
Renowned spiritual personality Khawaja Ghulam Qutab-ud-Din Faridi presided over the Conference. Speaking on the occasion, he said that the personality of Dr Tahir-ul-Qadri is like a library and none of his personality's aspect can be described sufficiently. He said that Dr Qadri is a great blessing for the whole Muslim world and we should value him. He said that Dr Tahir-ul-Qadri has scored a victory with the power of argument over the forces of extremism and radicalism. He said that promotion of his ideology and thought is the responsibility of the religious scholars because Tahir-ul-Qadri is not the name of just a person but another name of Islamic thought.
President of Minhaj-ul-Quran Ulama Council Haji Imdadullah Qadri said that the country is in the grip of terrorism. He said that the religious scholars will have to play the same role which they played during the struggle for establishment of Pakistan. He said that we would have to promote our shared values and refrain from talking about divergences. He said that the religious scholars would have to adopt the way of research and critical inquiry into the modern-day problems instead of relying on the age-old decrees. He said that it is the responsibility of the religious scholars to promote constructive attitudes in society.
Allama Farhat Hussain Shah, while speaking on the occasion, said that disorder at individual and collective level is the order of the day and the country remains in the hands of the vested interests. He said that incompetent rulers have brought the country to such a level where serious dangers have been posed to the country's survival and security. He said that the attitude of extremism, sectarianism, narrow-mindedness and lack of tolerance will not be reformed without bringing the honest, competent, and patriotic leadership forward. He said that everybody needs to extend support to Dr Qadri for positive change. He said that we can become an instrument of revolution in the country provided we play our role for it through peaceful and democratic means.
Allama Muhammad Hussain Al-Azhari, while expressing his views in the Conference, stated that positive and constructive changes can be brought about in society if our religious scholars come forward to play their role. He said that our predicaments are defined by lack of character and a sense of listlessness. He said that we have to reconnect ourselves with our forefathers who were torchbearers of noble values. He said that we need to combine religious and contemporary sciences, adding that we have to focus on character-building.
Allama Mir Asif Akbar also spoke on the occasion.