War on terror a matter of future of 200 million people: Dr Hussain Mohi-ud-Din Qadri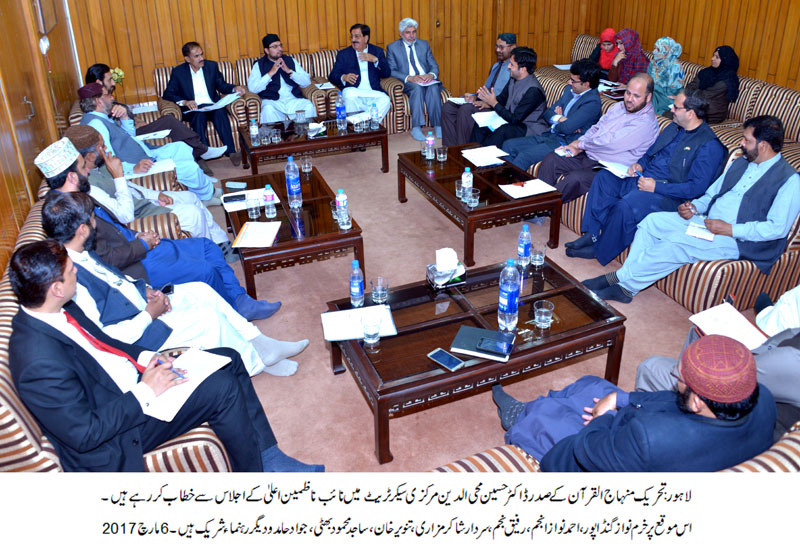 MQI President Dr Hussain Mohi-ud-Din Qadri has said that the ongoing war on terrorism should not be trivialized. He said that this war is important for the future of the nation as it is about the protection of the 200 million people. He said that had the NAP been implemented in letter and spirit, the nation would not have been divided now. He demanded that action should be taken against all those pointed out by Justice Qazi Faez Isa report.
Dr Hussain made these remarks while chairing a meeting of office bearers of MQI yesterday. The meeting was attended by Khurram Nawaz Gandapur, Ahmad Nawaz Anjum, Rafique Najam, Sardar Shakir Mazari, Tanvir Khan, Sajid Mahmood Bhatti, Jawad Hamid, and others. He said that contrary to gravity and seriousness of challenges facing the country, the rulers happen to be equally incompetent and clueless. He said had the government expended 10percent of energy and efforts it invested in holding one cricket match, the country would have been rid of terrorism by now. He asked the government and PCB to tell the nation as to when the next international series is being played in Pakistan after the successful conduct of the PSL Final.
Dr Hussain Mohi-ud-Din Qadri said that for international cricket to return to the country on sustainable basis, durable peace will have to be established and for this purpose the last of terrorists needs to be eliminated along with their ideological and intellectual support system. He said that intelligence and law enforcement agencies cannot protect each and every match. He said that the nation remains resolved in the war against terrorism and it is the government which lacks resolve and strength of character to take on the menace with full might. He said that the infection of terrorism will not be over with antibiotic but a complete overhaul and surgery of the body politic is need of the hour. He demanded that the Punjab government should give free hand to the Rangers, adding that the NAP be implemented in letter and spirit.