Ramazan a great opportunity for spiritual transformation: Dr Tahir-ul-Qadri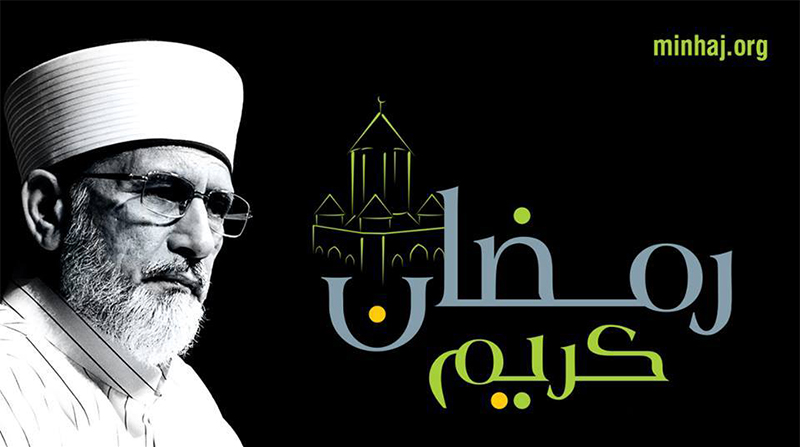 Shaykh-ul-Islam Dr Muhammad Tahir-ul-Qadri has congratulated the whole Muslim community around the world and people of Pakistan on the advent of the holy month of Ramazan. In his special message to mark the onset of the holy month, he said that Allah Almighty revealed the Holy Quran in the month of Ramazan and the Holy Prophet (peace and blessings be upon him) described this month as the month of mercy, enormous blessings and a salvation from the hell. He said that Ramazan is a collection of Allah's blessings, and rewards, a month where the faithful should endeavor their best to make the most of this rare opportunity.
Dr Tahir-ul-Qadri further stated that the Holy Prophet (peace and blessings be upon him) described the month of Ramazan as the month of patience, sacrifice, self-control, and empathy. He said as the month has got underway, we have to determine how we can enrich ourselves with Allah's blessings, how we can do as many deeds as possible, how we can reorganize and reform our personality, conduct and behavior in these blessed 30 days. He said that we should promote good and try to discover our original selves in this month.
Dr Qadri said that the holy month of Ramazan imparts the Muslim community a lesson of self-accountability. He said that fasting can become the best way to achieve purification of heart provided all of its demands are fulfilled. He said that merely staying thirsty and hungry would not lead us to get the requisite results. He said that the month of Ramazan is of utmost importance in understanding and implementing the Islamic concept of faith, benevolence and excellence. He said that it is the best month to start one's journey of self-reform and spiritual transformation. He said that helping the poorest of the poor get rid of difficulties of life is among the lofty objectives of this holy month. He said that making a resolve and practical efforts for elimination of terrorism, extremism, hunger, poverty and destitution from society is incumbent on every Muslim and Ramazan reinforces this message.
Dr Tahir-ul-Qadri said that with the sighting of the moon, we should beg our Lord to shower His mercy and blessings upon us. He said that we should offer special prayers during this month. He said that the advent of Ramazan changes the atmosphere in the same way as spring does when it gets underway. He said that the Muslim societies discipline themselves during this month. He said that hours of both keeping and breaking fast are special as Allah showers His mercy on the faithful at that time.