Dr. Hassan Mohi-ud-Din Qadri demands immediate release of Justice Najfi's report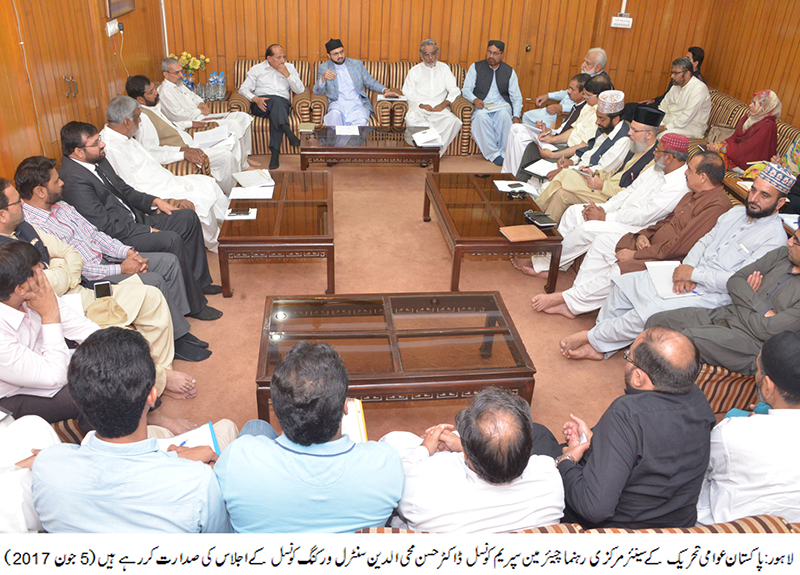 While addressing the emergency meeting of Central Working Council, Chairman Supreme Council and senior leader of PAT, Dr. Hassan Mohi-ud-Din Qadri has said that the rulers who ignored the blood-strained pictures of the victims of Model Town incident were terming the release of picture in which Hussain Nawaz was sitting comfortably in AC room as the violation of human rights. It was demanded in the emergency meeting of CWC that the report authored by Justice Najfi be made public before the publication of report of JIT. The participants condemned in the strongest possible words the London attacks. The resolution that was passed in the meeting condemned severely the government over its failure to curb the prices of commodities and load shedding.
Brig (r) Muhammad Iqbal, GM Malik, Syed Altaf Hussain Shah, central secretary information Noorullah Siddiqui, Sajid Bhatti and the leaders of youth wings and SMS participated in the meeting. Spokesperson Noorullah Siddiqui said while briefing after the meeting of CWC that Maryam Aurangzeb who was enjoying the salary and perks from money of tax payers, had become the personal employee of the Sharif family. He added that the Minister must watch the pictures of martyrs of Model Town particularly Shazia Murtaza and Tanzeela Ahmad's blood tainted pictures. These brave ladies were martyred by policemen who fired at their faces, the Nazis Force of current rulers brutally resorted to baton-charging the white bearded men and broke their bones, and more than 100 people were doused in blood. He further added that the rulers who made the lives of their political opponents difficult, do not deserve to talk about law, morality, democratic traditions and human rights. He concluded that the under investigation ruling elite for their involvement in mega corruption cases was now looking towards their foreign masters.