Dr Tahir-ul-Qadri urges Muslim world to focus on women education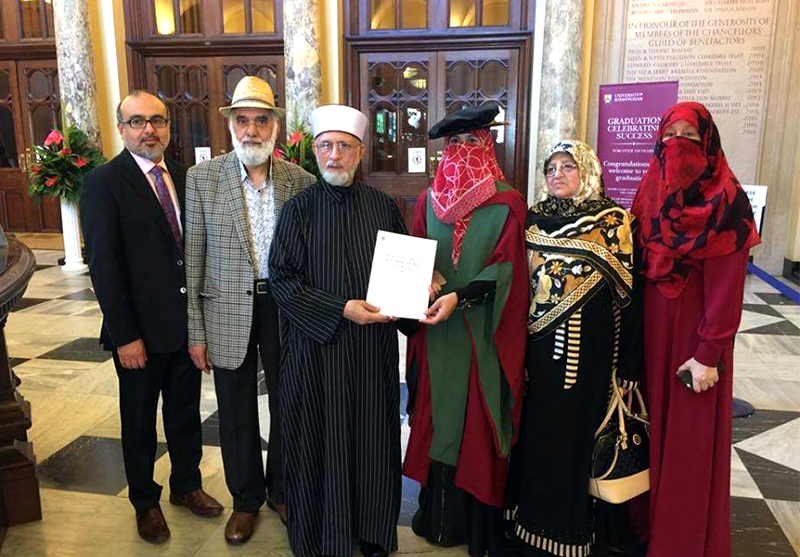 PAT Chairman Dr. Muhammad Tahir-ul-Qadri has urged the Muslim rulers to provide opportunities for women education in order to sustain the development and progress. He noted that the objective of bringing about reform in society and character building could not be achieved without educating the women. The first school of every man and women was the cradle of mother.
Dr Qadri expressed these views on the occasion of Convocation of Birmingham University in which his daughter-in-law, Dr. Ghazala Hassan Qadri was awarded PhD degree. Dr. Ghazala Qadri wrote her PhD thesis on The Right of Khula, Its Historical Status and the Practical Implementation of Khula in Pakistan. She was awarded PhD degree from Birmingham University for writing this thesis.
The PAT Chairman especially participated in the Convocation of Birmingham University and congratulated his daughter-in-law on successfully writing historic thesis and receiving PhD degree. He observed that Islam does not discriminate between man and women on the matter of education, while noting that one of the objectives of Minhaj-ul-Quran International is to undertake practical steps to provide basic and higher education to women. God be Praised, he added, we are fulfilling our Islamic, national, and international obligations with our own resources. He said while elaborating that an academic institution, meeting the international standard, in the form of Minhaj-ul-Quran University had been set up in which more than 6 thousands students were getting education.
In addition to this, thousands of girls are getting quality education in the girl colleges established by Minhaj-ul-Quran. He revealed that Minhaj-ul-Quran Islamic centers established in more than 90 countries were being converted into institutes that would provide quality contemporary education to the learners. He noted that Pakistan or Muslim Ummah would never be able to achieve the intended educational targets without educating the women.
The president MQI UK, Syed Ali Abbas Bukhari, General Secretary Muazzam Raza, Dr. Zahid Iqbal, President Minahj Scholars Dr. Rafiq Habib, Dawood Mash'hadi, Allama Afzal Saeedi, President Women UK, Ms. Fatima Mash'hadi and the member Minaj Women League and Minhaj Centers League UK participated in the Convocation and congratulated Dr. Ghazala Hassan Qadri on her achievement.
Moreover, President of Minhaj-ul-Quran International (MQI) Dr. Hussain Mohi-ul-Din, Secretary General Khurram Nawaz Gandapur, Vice President, Brigadier (r) Muhammad Iqbal, and Central President Women League Pakistan, Farah Naz have congratulated Dr. Ghaza Hassan Qadri on receiving PhD degree.