Families of martyrs justified in demanding justice: Dr Tahir-ul-Qadri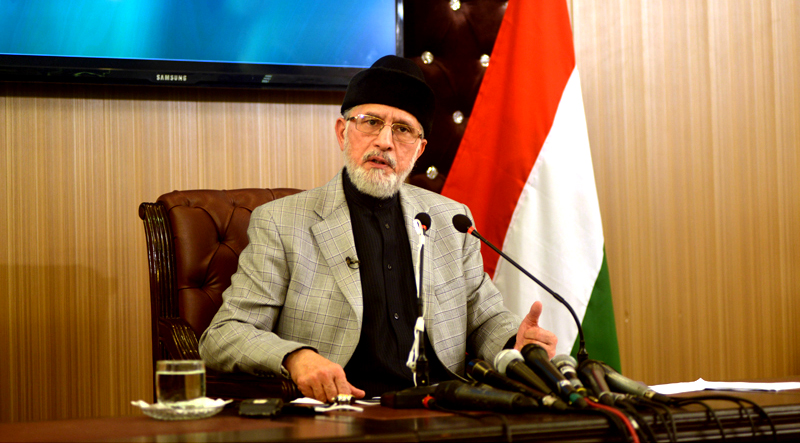 PAT Chairman Dr Muhammad Tahir-ul-Qadri has said that he will go to Istanbul chowk at The Mall today to express his solidarity with the daughters, sisters and mothers of the oppressed and the martyrs of Model Town tragedy. He said that the families of the martyrs continue to wait for justice for three years, asking if it is not the responsibility of the institutions responsible for dispensation of justice to heed their pleas. He said that his party has spent every day of last three years waging a legal struggle for justice, adding that it is after the disqualification of one very powerful person that a ray of hope of justice has appeared on the horizon and God willing, justice in the form of Qisas will be delivered. He said that those who have spoken lies from the Parliament to the Supreme Court will also face punishment for killing the poor people.
The PAT Chairman made these remarks while talking to the PAT leaders here today. He said that the families of the Model Town tragedy have a right to ask as to why the only judicial inquiry into the massacre has not been made public? What is there in the report for which it is being hushed? He said that if the Sharifs think that they have nothing to do with Model Town incident, then they should reveal the identity of the mastermind and who killed the innocent people. They should tell as to why this secret was not unveiled in three years.
Dr Qadri said that when the oppressed are robbed of their right to justice, it paves the way for frustration; and confidence in the laws, constitution and institutions gets weakened, adding that the honor and prestige of the institutions and law is associated with the rule of law and majesty of constitution.
The PAT Chairman said that those who criticized him have been declared disqualified and corrupt in 5-0 unanimous judgment of the Supreme Court. He said that from the Panama to Iqama, the list of financial crimes is before the nation. He said that a proven corrupt and a killer of innocent people is not criticizing him for nothing, for he knows that it is Model Town tragedy that is next from which it is impossible for them to escape.
Dr Qadri said that he taught the lesson of the Constitution and law all his life. He said that he never took law into his hands nor did he allow his workers to do so. He said that the protest of the oppressed daughters will be within the limits of law. He said that we are among those who guarantee peaceful conduct of the gathering for justice. He said that not even a leaf will be plucked. He said that our demand is consistent that justice should be done in the Model Town case.