MES Annual Assembly 2017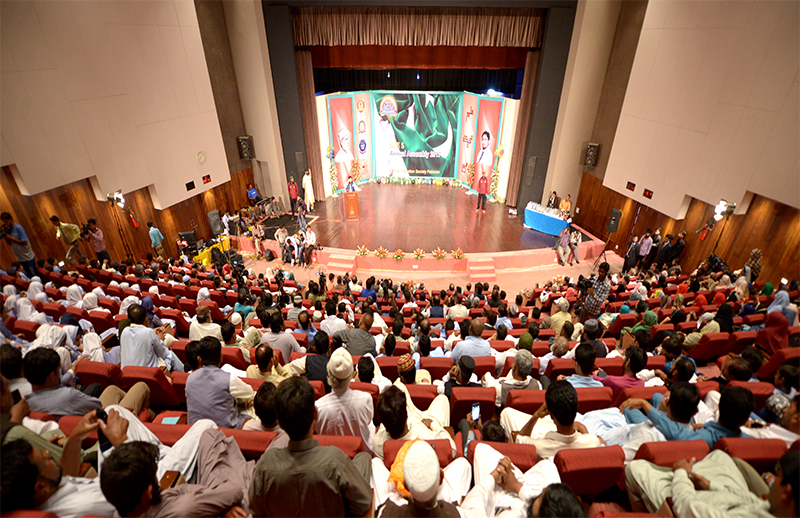 Farid-e-Millat Scholarship Award Ceremony was held in Al-Hamrah Hall on August 26, 2017 under the banner of Minhaj Education Society. Dr Hussain Mohi-ud-Din Qadri, President of MQI and Chairman of Minhaj Education Society, presided over the ceremony, whereas Khursheed Mahmood Kasuri, former Foreign Minister, Chaudhry Muhammad Sarwar, former Governor Punjab, Ghulam Mohi-ud-Din Dewan, member AJ&K Legislative Assembly, and MD of Minhaj Education Society Rashid Kalyami addressed the ceremony.
Addressing the gathering, Khursheed Mahmood Kasuri said that we need an educational system and curriculum that promotes and fosters tolerance, enlightenment and respect for diversity. He said that nations have progressed according to the amount of tolerance they have had. He said that Modi's India and Trump's America are rejecting their constitutional documents and secular and democratic values that are based on tolerance, and forbearance and warned in the same breath that extremism and fascism on display in these countries will result in catastrophic consequences for them. He said that he is happy that educational institutions set up by Dr Tahir-ul-Qadri are imparting purposeful education, adding that he is appreciative of Dr Qadri's services for humanity and interfaith dialogue.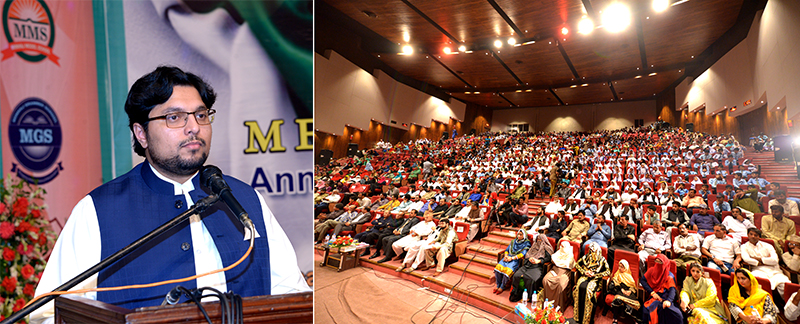 Delivering his keynote address, Dr Hussain Mohi-ud-Din Qadri said that literacy rate at the time of birth of Pakistan was 11% and if it had continued to increase at the rate of 1% every year, our literacy level should have been 81% by now. He said that no noticeable literacy rate increased during last four years. On contrary, the educational standards fell down. He said that despite such dismal performance, the disqualified PM has the gall to ask as to what is his crime.
The President of MQI said that more than 150,000 students are getting purposeful education in more than 650 educational institutions being run under the Minhaj Education Society. He said that it is our claim that if the students of MES are asked to compete with their counterparts of any other educational institution, their knowledge of religion, Pakistan ideology and current affairs will be better than them. He said that a generation that grows up without knowledge of essentials of faith and Pakistan ideology cannot be productive for the country.
Dr Hussain Mohi-ud-Din Qadri said that all the four provinces cumulatively allocated Rs. 720 billion in their budgets and if the money is divided over 40 million plus students, then every will student will get to have Rs. 175 per head per annum. He said that 2.4% spending of GDP of Rs. 3000 billion is a joke with the nation. He further said that Minhaj Education Society is focusing on training the teachers and designing of the curriculum in line with the demands of the time. He said that the governments will have to change their priorities, stating that it is education, not roads and bridges that makes a nation.
Dr Hussain further said that it was with a mission and purpose that Dr Muhammad Tahir-ul-Qadri launched educational projects and today more than 150,000 students are quenching their thirst of knowledge in these institutions today.
Chaudhry Muhammad Sarwar, while speaking on the occasion, said that we have not given the kind of attention to education that it deserves. He said that we have also failed to spend the foreign financial assistance meant for education in an optimum manner. He said that the world does not trust us anymore and it is due to corruption, incompetence and bad governance in the educational sector. He said that Dr Tahir-ul-Qadri is saving the youth from the pernicious ideology of terrorism and extremism in this day and age and it is a great national and religious service.
Managing Director of MES Rashid Kalyami gave the welcome talk in which he presented the progress report of the society. He also informed the audience about the future targets of MES. The students presented various performances and skits on the occasion. One of the enactment was about Model Town tragedy which brought tears in the eyes of the participants.
At the conclusion of the ceremony, the guests of honour were presented shields. They distributed scholarship awards among the selected students. Dr Hussain Mohi-ud-Din Qadri lauded the performance and dedication of the teachers and the students.