Preparations for International Mawilad-un-Nabi Conference get underway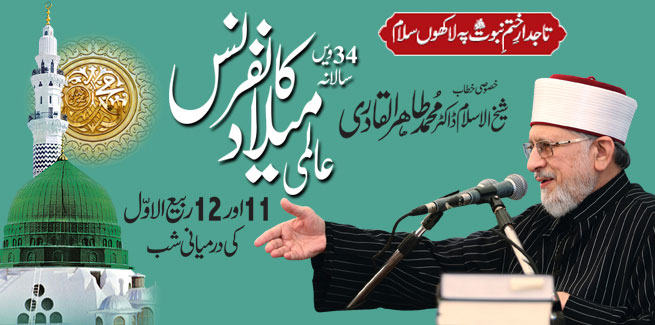 Deputy Secretary General of MQI Ahmad Nawaz Anjum has said that the 34th international Mawlid-un-Nabi (peace and blessings be upon him) Conference will be held at the historic Minar-i-Pakistan. It will be attended by religious scholars from across the world. Dr. Tahir-ul-Qadri will deliver his keynote address to the Conference. This year as usual the Pakistani Muslims will express their deep love and reverence for the Holy Prophet (peace and blessings be upon him) by holding Milad gatherings. He added that those conspiring against the finality of the prophethood and attacking the very foundations of our faith should keep in mind that as long as the true lovers of the Holy Prophet (peace and blessings be upon him) are alive their nefarious designs cannot be fulfilled.
Ahmad Nawaz Anjum demanded that all the actors of regime's conspiracy against the finality of prophethood should be exposed and the report prepared by the government's own committee be made public. Addressing the meeting held at MQI Secretariat, he said that we would take out torch bearing processions at hundreds of places in connection with arrival of the Rabi-ul-Awwal across the country. With the sighting of the moon the Rabi-ul-Awwal, a milad feast would be arranged at the secretariat as well as all at the provincial offices.